Drivers 'deserve to be trained', says BC widow calling for nation-wide standards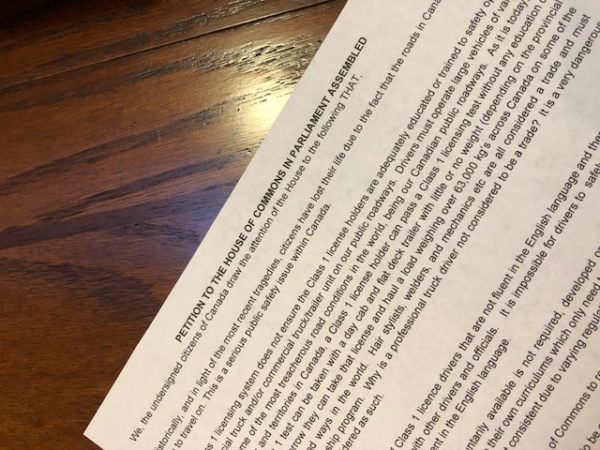 FALKLAND, B.C. – Pattie Babij is on a mission to make new driver training mandatory nation-wide.
It's been a difficult year for Babij. A little more than 12 months ago her husband Steve was driving his truck near Revelstoke, B.C. when another semi crossed the median and hit him head on – neither he nor the couple's dog Zak survived the crash.
To add to the grief, she's being forced to sell her dairy farm because she's unable to run it without her husband's help.
The other driver in her husband's incident was charged with driving a motor vehicle without due care and attention and will appear in court on May 9. Police haven't said whether the crash was a result of lack of driver training, but the topic was a long-time concern for Steve who complained that he met drivers on the road who didn't know how to complete tasks like setting up their brakes or putting chains on their tires.
After the initial collision Babij says she knew she had to do something to advocate for better training for commercial drivers but finding the strength was difficult. It wasn't until another tragic crash took the lives of 16 members of the Humboldt Broncos hockey team and injured 13 others, that she took action.
"I had to dig deep. Someone has to stand up and has to do something."
The "Safer Public Roadways for Steve and Zak" campaign on Facebook calling for the federal government to regulate the training programs for drivers is gaining followers who want to see a national training standard provinces must adhere to, including designating commercial driving a trade with an apprenticeship program.
A petition is being launched with the aim to present it to the House of Commons in late August or early September.
As a former employee of WorkSafe BC with a health and safety background Babij wants to ensure the campaign follows proper procedures and meets the requirements of the House of Commons, so she's working with her local MLA to get the ball rolling, and is reaching out to community organizations to help generate support and input on what a training program might look like.
Training and licensing, though, are handled provincially.
Currently Ontario is the only province with a mandatory number of training hours to obtain a new Class A/1 driver's license. Other provinces require licensees to pass written and road tests, but have no minimum requirement for hours logged in-cab or in a classroom.
The suggested changes include yearly audits of training schools, a graduated program so drivers can work up to carrying a full load, and adding a mandatory apprenticeship so new drivers get the benefit of working with more senior personnel before hitting the road on their own.
Some large fleets have already starting implementing mentorship programs for new hires, as well as refusing to hire drivers without a training program from a recognized school under their belt.
"It's expensive for the employers, but really the good employers are already doing this. It's not going to affect them. It's going to affect the ones that aren't doing it," said Babij.
The petition is also making another ask of any new regulations that are designed.
"It's also going to ask that all drivers are fluent in English."
Babij is advocating for an English-language competency exam for drivers to ensure they can read road signs.
In response to at least on Facebook comment calling the ask racist, Babij says she welcomes drivers from other countries, but wants to ensure all drivers are able to read what's necessary to do their job.
"There's companies sourcing drivers that can't speak English… interpreters getting people through those courses," she claimed.
So far Babij says the response to her campaign has been overwhelmingly positive, with drivers and family members of those who have been involved in incidents on the road sending messages of support.
"I've had tons of drivers say thank you for standing up. They deserve to be trained adequately."
Welcoming those messages, as well as wider discussion on the topic, Babij says she can be reached through the Facebook page for the group. Requests for the petition can be sent there too.
"We can do this. It shouldn't be costing people their lives. We need to pull together and we can get this problem solved. We don't need to be wiping out people on the highway."

Have your say

This is a moderated forum. Comments will no longer be published unless they are accompanied by a first and last name and a verifiable email address. (Today's Trucking will not publish or share the email address.) Profane language and content deemed to be libelous, racist, or threatening in nature will not be published under any circumstances.