Talking Tesla: Is this the game changer?
LOS ANGELES, CA — Elon Musk was not the first to unveil an electric truck. Not by a long shot. Established manufacturers have unveiled a series of electrified plans, prototypes, and production models in recent months, particularly in the form of medium-duty vans and drayage tractors. New nameplates such as Nikola Motors and Chanje have emerged in the process.
Mitsubishi Fuso Truck and Bus, the majority of which is owned by Daimler, even beat Tesla Motors to the punch with a Class 8 prototype, unveiled during the recent Tokyo Auto Show.
But the Tesla Semi is the electric truck that everyone was talking about in late November, especially in circles outside the trucking industry itself. A related launch event in California attracted media from around the world, including the likes of Rolling Stone, the New York Times, television networks, and others. Today's Trucking, too.
Now the question is whether Tesla will become the industry disruptor it wants to be.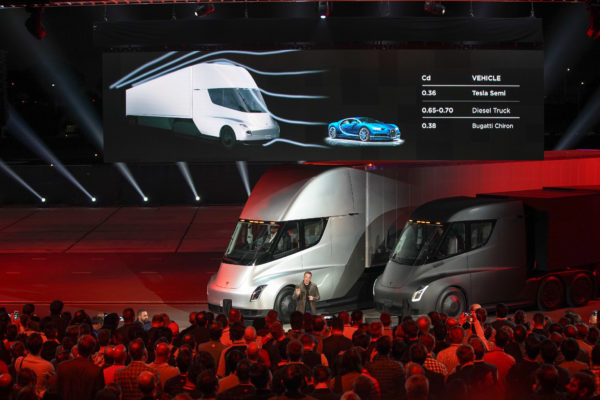 Brief looks at the Semi were highly choreographed in the hours before Musk, Tesla's Chief Executive Officer and product architect, stepped out of the truck in front of about 1,000 cheering enthusiasts and employees. Select media had been shepherded into a secure hanger by the handful, each given 15 minutes to climb in and around one of a pair of prototype day cabs. Questions were limited to what could physically be seen. Most answers were limited to suggestions that details would be revealed later.
Just a day before, Musk went so far as to tweet this truck "can transform into a robot, fight aliens, and make one hell of a latte". Hyperbole, to be sure. There was no cappuccino machine anywhere. But it certainly has more in common with futuristic prototypes than production trucks on the road today.
The truck
With no internal combustion engine under the hood, the Tesla Semi takes on a streamlined, wedge-shaped appearance. The small hood that does exist reveals a small storage space. Drivers enter the cab from behind the driver's seat, climbing up a set of stairs revealed when the door opens. The driver's seat itself even sits in the center of the cab, behind a car-sized steering wheel flanked by a pair of massive information displays. Pop-open windows are located at the A pillars, to the left and right, presumably to pass documents in and out of the truck. And a jump seat for a passenger was mounted just to the right, against the back wall.
One important spec' that was released noted Tesla Semis will have a range of up to 800 kilometers. High-speed DC charging stations are, in 30 minutes, expected to add enough energy to drive another 650 kilometers. Other energy is to be supplied through regenerative braking.
There was no mention about the size or weight of the battery, other than recognizing that it offers a low center of gravity. The design of the high-speed charging stations, or where they would be located, is still under wraps as well.
"You can go out to the middle of nowhere and come back," Musk insisted, referring to the maximum range as six to seven hours of driving. "By the time you're done your break, the truck will be ready to go."
Above all, Musk claimed the new trucks will be 20% cheaper than their diesel counterparts, once factors such as lease payments, insurance, and maintenance are combined – promising an operating cost of US $1.26 per mile compared to $1.51. (All figures in this article are in U.S. dollars.)
Those who generate energy supplies through solar-powered mega chargers would see greater savings yet. "Your truck is money on sunlight," Musk said.
"Reliability is incredibly important," he added. "We're guaranteeing this truck will not break down for a million miles [1.6 million kilometers]." Even if some of the all-important electric motors break down, the Semi will still reportedly beat the speed of a diesel-powered truck.
That promised speed was a cornerstone of Musk's presentation, as he poked fun at the comparable acceleration of diesel counterparts. A bobtailing Tesla Semi is to reach 97 kilometers per hour in five seconds, while one laden to 80,000 pound Gross Vehicle Weights will reach the speeds in 20 seconds. Perhaps more relevant, the truck will climb a 5% grade at 105 kilometers per hour. With no shifts or clutch actuations, the truck is expected to accelerate or slow ­smoothly, while regenerative braking recovers available kinetic energy.
This is hardly a Model 3 car, but the truck does draw several components and design cues from its four-wheeled brethren, ranging from the door handles to touch screens. Both vehicles also use common electric motors. But unlike the car that draws power from a single motor, the truck has four of them – using a pair on each drive axle to ensure ­independent controls. This can help to prevent jackknifes by reacting with positive or negative torque on each wheel end, along with independently applied brakes, Tesla says.
"It's unlike any truck you've ever ­driven," Musk said, referring to the driving experience. "Jackknifing is impossible. Your worst nightmare is gone from this truck."
The driver information displays promise to offer access to a navigation system, blind spot monitors, and an Electronic Logging Device, although only one screen was working in a displayed prototype. It showed electronic controls for a tractor protection valve and trailer supply valve.
Telematics capabilities will integrate with existing fleet management systems to cover everything from routing to remote monitoring, Tesla says.
One prototype didn't have any ­mirrors, suggesting that the views around the truck would be entirely ­electronic in nature. Not mentioned was the fact that such a setup would run afoul of current federal regulations.
Cameras have been mounted around the vehicle, above and below the windshield, and on small wings mounted behind each door. In addition to the enhanced view they offer, the cameras are to support enhanced "Autopilot" features such as Automatic Emergency Braking, Automatic Lane Keeping, Lane Departure Warnings, and event recording. The Autopilot is a standard offering.
"I can drive this thing and I have no idea how to drive a semi," Musk said, referring to the semi-autonomous controls.
The Tesla Semi even promises a form of platooning – what Tesla refers to as a "convoy" – where several of the trucks follow one in the lead. "You're more like a train driver," Musk said, suggesting that it can be done 10 times safer than a human driver. "Now, [in a convoy], a diesel truck is twice as expensive as a Tesla Semi."
"This beats rail."
As an electric vehicle, there are several maintenance savings to be realized in the form of fewer parts. There is no internal combustion engine, aftertreatment system, transmission or differentials, for example. But some familiar components could be seen during the controlled reviews, ranging from a Jost fifth wheel to what looks like a traditional suspension.
Tractor-trailer gaps were closed with extenders, making a side view of the daycab look almost like a sleeper, and the bottom of the truck is covered with a panel to further enhance aerodynamics.
"This has got a better drag coefficient than a super car," Musk said.
Early adopters
The market will decide just how smooth the manufacturer's ride will be, but Tesla has already attracted downpayments from a handful of Canadian fleets. Loblaw, Walmart, and Bison were among the first to announce purchases. Fortigo Freight Service, Fuel Transport, Titanium Transport Group, and Speedy Transport followed. More buyers lined up in the U.S.
Base prices for the trucks were later revealed to be around $150,000 for models with a 500-kilometer range, and $180,000 for those that run 800 kilometers between charges. A so-called Founders Series model will cost $200,000 to be paid up front. Loblaw reported it paid $5,000 deposits, but Tesla now says the deposits are set at $20,000.
Nikola Motors, which previously announced a truck that will combine hydrogen fuel and electric power, was unimpressed. Based on current costs and the Semi's promised range, the company tweeted that the truck's battery cells would cost $140,000 and weigh 15,000 pounds when enclosures and cooling systems are included.
"Fun battery estimate @tesla #teslasemi," Nikola said when tweeting the related math.
Those linked to earlier purchases were decidedly more upbeat.
"We had two to three of our customers basically say, 'When you get this, can we be one of the first to have it on our run?'" says Peter Calluori, Fortigo's senior vice president – sales and marketing. There is no questioning the cache of the Tesla brand, he says. One of the fleet's trucks will be tested on a pedal run around Toronto, while a second is to be tested in a Toronto-Montreal lane.
Admittedly, the purchase is a leap of faith, with so many factors still unknown. Tesla hasn't even announced where the trucks could be serviced.
"Have we put a certain amount of trust in him? Yeah, we have," Calluori says of Musk and Tesla. He's also confident that questions about the battery are being answered behind the scenes.
"We also want our customers to know we're investing in technology," he adds. In fact, it's one of the factors that Fortigo finds most intriguing. It has invested extensively in fleet management systems. The Tesla Semi promises to be a truck that becomes an extension of such tech.
Still, Tesla has other challenges to overcome before any trucks are shipped. Analysts have noted the manufacturer could run out of money by August 2018 if it continues to spend at the current rate of $8,000 per minute, Bloomberg reports. In the midst of it all, the company has struggled to manufacture its Model 3 car. The rollout of that product line has been pushed back to March 2018, when 5,000 units per week are to roll off the line.
The company is reportedly using its revolving credit resources at a high rate, with 70% of its debts outstanding in September – more than double that of the same month in 2016 – while bonds sold a few months ago to cover $1.8 billion in debts are still not worth what investors paid for them.
Revenue from any sales will clearly be key to the company's future.
Production of the Tesla Semi is to begin in 2019.
[envira-gallery id="139283″]

Have your say

This is a moderated forum. Comments will no longer be published unless they are accompanied by a first and last name and a verifiable email address. (Today's Trucking will not publish or share the email address.) Profane language and content deemed to be libelous, racist, or threatening in nature will not be published under any circumstances.