Partnerships can be the basis for growth
Sponsored by:
In an article titled Building Trust in Business Partnerships published by Queens University's IRC (Industrial Relations Center) back in 2010, Jim Harrison and Gary T. Furlong wrote: "The ability to quickly establish and build trust is becoming even more important in today's business environment, where partnerships and strategic alliances are common practice. Companies and organizations are strategically focusing more and more on their core competencies and high value activities. They are looking to partners – both external and internal – to contribute added value through complementary services, products, and expertise."
Explaining the various types of internal and external partnerships that can exist in the corporate world, the authors pinpointed the importance of establishing relationships with suppliers amongst the less visible external partnerships: "In the most successful organizations, these traditional buyer-supplier relationships are being run not as price-driven, pain-filled, win-lose procurement exercises, but rather as trust-based, win-win partnering relationships."
Without a doubt one of the leading transportation companies in Southern Ontario, family operated Joseph Haulage Canada Corp. has grown over the years to a fleet of 200 units operating 24 hours a day, every day, at three locations in Ontario (Stoney Creek, Mississauga and Caledonia) and looking to expand more in Ontario as well as the Great Lakes area . The Stoney Creek carrier's mission of providing customers with efficient, cost-effective solutions in times of economic challenges while never compromising its high standards for health and safety has never wavered.
The company offers a wide array of services requiring different equipment from trucks, dump trucks, live-bottom trailer, walking-floor trailers, tanker trailers to dump trailers and flatbed trailers. In order to be able to work with the best units possible, Joseph Haulage has always looked for the proper partners who take time to truly understand their needs before supplying the right equipment.
A clear example of this practice happened this year when the carrier turned to Transcourt Tank Leasing, one of the Canadian leaders in short, medium and long term leasing of tank trailers of various configurations. After a few meetings earlier this year, it became clear there was a fit between the two potential partners. Since then, Joseph Haulage has leased / financed some 20 tank trailers including Polar Hot Product Tandems, Titan Aluminium Quints and Advance Aluminium Hot Product quads. "We appreciate the fact that Transcourt was able to provide business solutions tailored to meet our specific needs. Their quick response helped us pursue new growth opportunities." Says Geoffrey Joseph, C.E.O of Joseph Haulage. Both partners continuously strive to rise above customer expectations. They both build loyalty though trust and commitment.
For almost 20 years now, Transcourt's expertise and experience are the reasons why clients turn to them. Their unique, flexible and more than conventional approach to tanker leasing, allows them to support customers in meeting their specific business requirements in North America.
They have a fleet of around 600 new and used trailers which include chemical, crude oil, Petroleum, food grade, hot products, dry bulk, FRP Lined, compressed gas trailers across North America,  with pick up and drop-off locations in Alberta, Ontario, Quebec, New Brunswick, Texas and Illinois.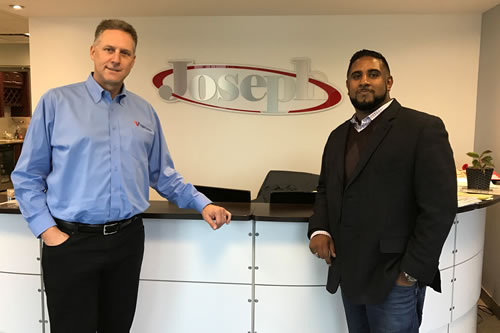 Source
Vianna Murday
Transcourt Tank Leasing
905-338-5744

Have your say

This is a moderated forum. Comments will no longer be published unless they are accompanied by a first and last name and a verifiable email address. (Today's Trucking will not publish or share the email address.) Profane language and content deemed to be libelous, racist, or threatening in nature will not be published under any circumstances.