The Social Sergeant: Kerry Schmidt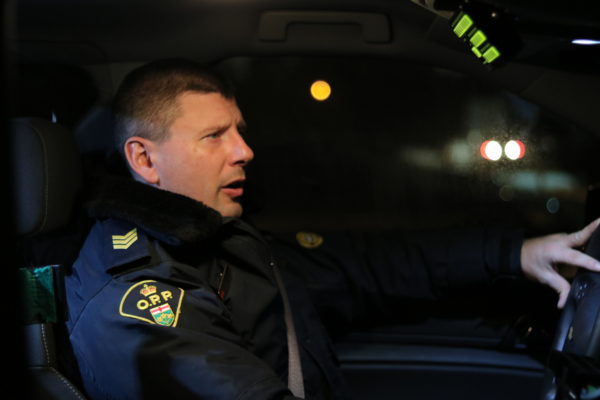 TORONTO, ON — Sgt. Kerry Schmidt has become one of the most visible faces of the Ontario Provincial Police (OPP). The media relations officer for the Highway Safety Division logs near-daily reports on rush-hour pileups in the Greater Toronto Area (GTA) through his social media feeds, receiving attention from as far away as the United Kingdom. There are also appearances on Discovery's Heavy Rescue: 401 — a TV show now in its second season that features Toronto-area rescue workers as they respond to heavy vehicle collisions.
It wasn't the career he had in mind. Schmidt joined the Highway Safety Division 18 years ago after poor eyesight disqualified him from becoming a pilot or air traffic controller. After 12 years of reconstructing accidents, and 3-1/2 years in his current role, the sergeant denies his celebrity cop status, even as he's adjusting the lighting in his truck to be more camera-friendly during a media ride-along. Schmidt says his media-savvy ways are entirely self-taught.
Although his frequent, sometimes incendiary, social media posts haven't always been well-received by truckers.
"It's so much fun getting out and talking to people, and letting people know what's going on and what we're seeing," he says. "When I started doing Periscopes [live video feeds on social media], I was getting so much obscenities and police haters out there all the time … you've got to have thick skin."
OPP statements about truck safety in the wake of recent collisions have thrust him further into the spotlight.
Police have staged press conferences and enforcement blitzes in recent months to build awareness around the issue of distracted Commercial Motor Vehicle drivers. Heavy vehicle crashes make up only about 10% of all collisions on Ontario's provincially patrolled roads – a fact which Schmidt readily acknowledges – but have been widely covered by the province's media outlets.
He says the blitzes are to build industry awareness, but also to further train officers about truck inspections. Police often don't know what to look for, or whether they can even ask for documents such as logbooks, Schedule 1 inspection reports, and fuel receipts, he says. "They don't have the experience or the expertise to do those investigations."
Schmidt says he understands the frustration that comes from working on highways filled to capacity, and with a "just-in-time" mindset that can cause the stress and exhaustion which incites aggressive driving. He hopes the additional attention he's bringing to the trucking industry through Heavy Rescue and his online posts will help drivers choose their habits more carefully.
"Hopefully [I'm] providing some sort of strategies that people can learn from, and providing information to folks that will hopefully change someone's behavior," he says. "I think there's value in getting those messages out."
Schmidt also finds personal value in speaking about the reoccurring horrors he sees in the aftermath of collisions.
"I don't know if I've been jaded or changed from seeing all this death and destruction all the time, and I'm sure I have, but I think that one thing that is actually therapeutic for me is being able to talk about it," he says. "I have some very close friends that are on the service right now and they're suffering from PTSD [Post-Traumatic Stress Disorder]…  The fact that I now get to go out and talk about it actually is very soothing and therapeutic, and I think healing for me."
The multi-channel spreading of the highway safety message is more than a full-time job for Schmidt, who says his phone is constantly ringing. One of his predecessors – Cam Woolley – went on to become a reporter for CP24 television. "Reporter or personality?" Schmidt jokes.
When asked if he has similar ambitions, Schmidt pauses. "I don't feel called anywhere, like yeah, there's money to be made, in all sorts of places, but I love what I do," he says. "At this point, I look forward to tomorrow, and I look forward to next year, and I look forward to retirement, and I don't look at anything beyond that. So, this is where I am right now and I'm loving it."

Have your say

This is a moderated forum. Comments will no longer be published unless they are accompanied by a first and last name and a verifiable email address. (Today's Trucking will not publish or share the email address.) Profane language and content deemed to be libelous, racist, or threatening in nature will not be published under any circumstances.