Updated: UPS opens its first CNG fuel station in Canada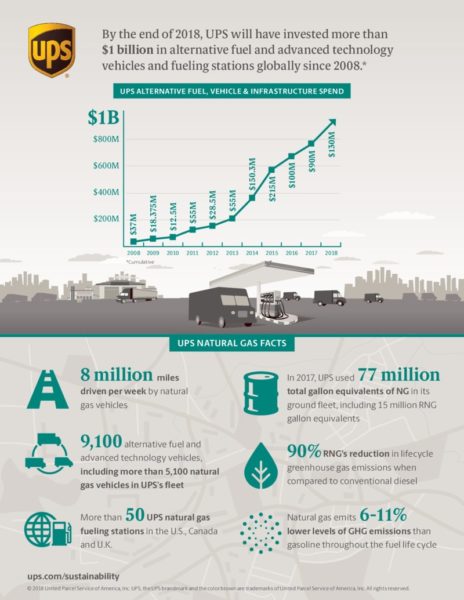 VANCOUVER, B.C. – In an effort to get half its Canadian fleet on alternative fuels by the end of the year, UPS Canada has opened its first compressed natural gas (CNG) fueling station in the country.
The station located in Vancouver, B.C. is a collaboration with Fortis BC and comes as part of a previously announced $500 million investment in the Canadian operations. Globally UPS will have invested more than $1 billion in alternative energy solutions by the close of 2018.
The new station joins more than 50 other CNG stations operating in the United States and the United Kingdom.
"We're always looking for ways to improve our impact on the communities within which we operate. These new vehicles are another step in the right direction," says Floyd Bristol, vice-president of automotive. "CNG emits 6 – 11 per cent lower levels of greenhouse gas emissions than gasoline throughout the fuel life cycle."
Currently 40% of the UPS Canada fleet runs on alternative fuels, including the addition of seven new CNG highway tractors and 40 delivery trucks.
UPS chose B.C. to build its first CNG station because the partnership with FortisBC provided funding to help the company with the purchase of new CNG vehicles in addition to the support they received to build the station.
Michelle Mungall, Minister of Energy, Mines and Petroleum Resources for B.C. says the investments will help the province to reduce their greenhouse gas emissions and keep their climate commitments.
The new station comes as the company prepares to release its 2017 Sustainability Report this week outlining its progress in reaching its global goals and new environmental initiatives.
This story has been updated from a previous version for clarification. An earlier version incorrectly reported the $500 million investment was in alternative fuels – it is for the entire Canadian operations. We are sorry for any inconvenience. 
Have your say
We won't publish or share your data