Coming ZF technologies include new transmission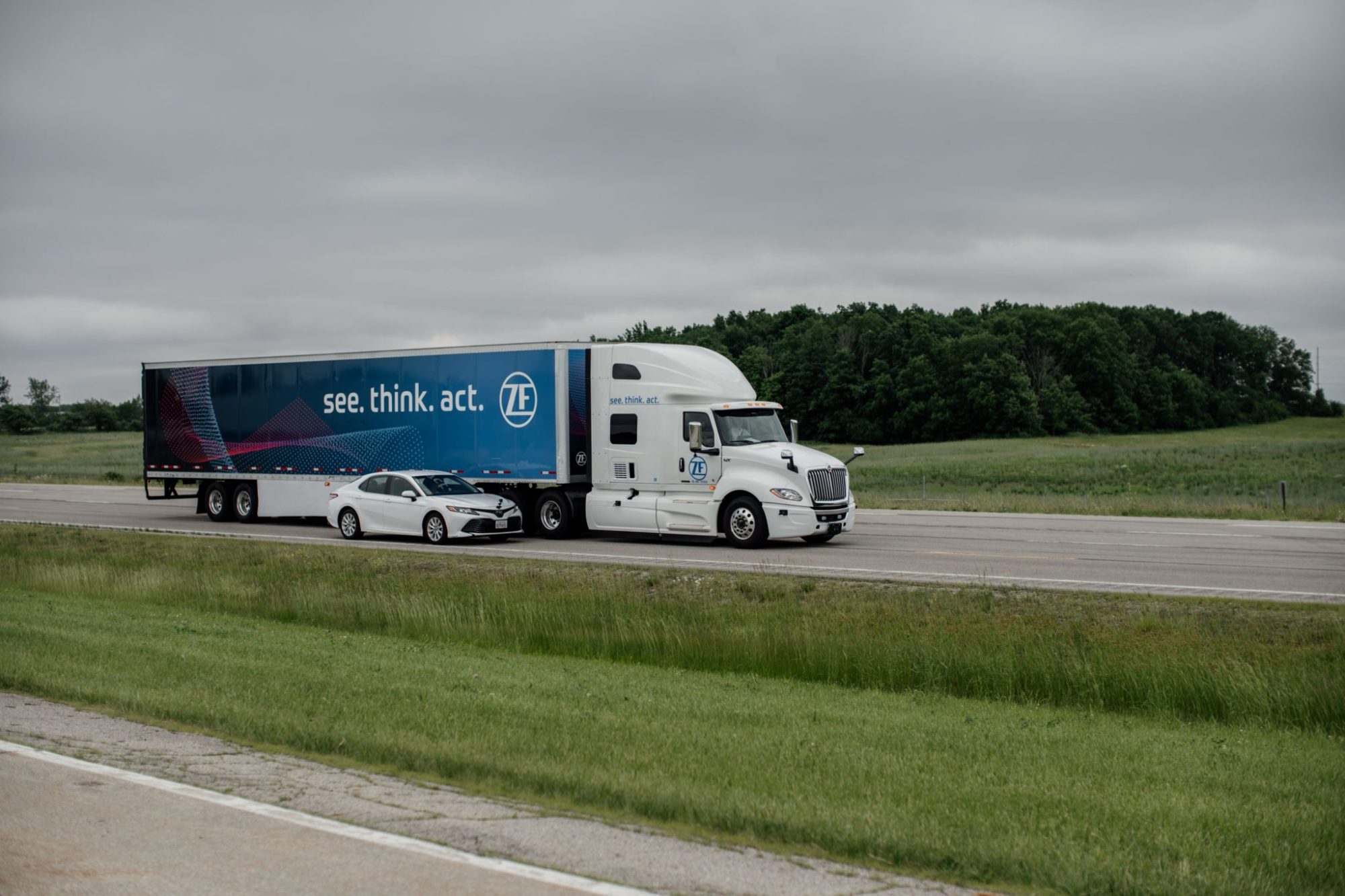 EAST LIBERTY, Ohio – ZF showcased a series of new technologies to journalists this month, including an all-new automatic transmission that uses a torque converter – making its PowerLine a direct competitor to the Allison 2500 transmission series.
The new shift-by-wire ZF gearbox is unique in that the same basic mechanicals and electronics are used to create models for everything from Class 3 to "baby 8" trucks. In fact, ZF calls it a "muscled up" version of a passenger-car transmission that has seen 24 million km of service. It will be in production next year, and at least one unnamed OEM has reportedly signed up to offer it.
The transmission itself was launched during a press gathering at the Transportation Research Center near East Liberty, Ohio. Also shown off were ReAX adaptive steering (along with a fully electric prototype version), plus OnTrax Lane Keep Assist and Lane Change Assist. All but the ReAX electric steering will be on the market next year or the year after. There was even a demonstration drive involving a completely autonomous International tractor on a set route with unmarked pavement, managing positions through GPS.
The PowerLine is an eight-speed transmission good for a gross combination weight rating up to 57,000 lb., with gear ratios from 4.89 all the way up to a long and lazy-cruising 0.64. Torque capacities range from 480 to 1,000 lb-ft, and its left- or right-side PTO is good for 485 lb-ft.
In operation, it has an "adaptive" starting gear that will automatically start in second gear if the load is light, and it will skip shift as appropriate through the gears. It also offers "adaptive" shift strategies providing Economy, City Drive, or Highway Drive modes. ZF claims a 10% fuel economy advantage over its existing competition, not to mention up to 30% improved acceleration and a 45% weight savings. The PowerLine only weighs 328 lb.
It sports "Hill Start Assist" as well, a useful feature that might save a driver's bacon in some situations. I tried it by stopping in the middle of a 23% uphill grade with a payload of 22,000 lb. in a Peterbilt 337 straight truck. I did slip back slightly and very slowly, but how often is anyone going to encounter such a steep climb?
On the maintenance there are extended oil-change intervals, and the oil filter is good "for life". It also features a fully integrated transmission control unit inside the casing, with no external sensors or harnesses. That should help with durability.
Looking at the offerings up front, ReAX is an electronic control for hydraulic steering systems, also developed from the passenger-car sphere. It's said to make a truck easier to drive and thus reduce driver fatigue. One of the best things is that it automatically self-centers the steering wheel after you stop.
The commercial version will be in production next year.
With OnTrax Lane Change Assist there are actually two ReAX systems to create redundancy. Adding OnTrax Lane Keeping Assist and Blind Spot Radar detector, it will help prevent accidents of a sort that happen all the time. I tried it for a few laps around a 12-km oval track in a tractor-trailer at about 90 km/h, with a small car following and occasionally sneaking into my blind spot.
If you signal a lane change but fail to see there's a vehicle in your blind spot, the system will warn you – but not prevent the maneuver. Presently, using small radar "cameras" mounted on the tractor skirts, the system will send a haptic alert through the steering wheel, namely the feel of rumble strips. I missed it the first time, thinking it was actually the pavement, so I would prefer a more obvious audio warning. But it definitely worked. The sensors required aren't yet in production, so this safety tool is still a couple of years away.
The more basic Lane Keeping Assist system will be in production next year with a major OEM, again unnamed.
This characterizes ZF, the biggest company that you probably know very little about. The truck-maker that offers Lane Keeping Assist in its databook will probably call it something else and not acknowledge ZF. Might well be the same with the PowerLine transmission.
The thing is, ZF is a very large and very capable manufacturer that rarely gets credit or takes credit for what it produces.
ZF Friedrichschafen AG, its full name, is based in Friedrichschafen, Germany but has operations on every continent and 149,000 employees. The company is in fact slightly bigger than the entire Volvo Group, with 2018 sales revenue of some US $44.3 billion, making it among the world's top five automotive suppliers. Its Commercial Vehicle Technology Division is a tenth that size, with 2018 revenues of US $4.46 billion. That makes it about twice the size of Eaton Corporation's automotive operations. And it's going to get bigger. Having bought steering-gear specialist TRW two years ago, it will also own Wabco in a few months once regulatory hurdles are jumped.
The commercial division's product portfolio includes automated and manual transmissions as well as drive components such as clutches and electric drives, and all manner of advanced driver assistance system (ADAS) technology. Then there are complete chassis systems, chassis components, and steering systems for vehicles from almost all commercial vehicle manufacturers worldwide.
Perhaps the thing that most marks ZF is its commitment to research and development. It devotes a whopping 6.5% of revenue to research and development, when most companies top out at about 2%. That alone puts it in a position to shape the future of transportation in significant ways.

Have your say

This is a moderated forum. Comments will no longer be published unless they are accompanied by a first and last name and a verifiable email address. (Today's Trucking will not publish or share the email address.) Profane language and content deemed to be libelous, racist, or threatening in nature will not be published under any circumstances.