DUAL program takes new approach to attracting future techs
QUEBEC CITY, Que. – A Quebec-based training program designed to attract future heavy vehicle mechanics has been renewed after a successful one-year pilot project that evenly splits classroom time and in-shop training.
The DUAL training model requires participating students to complete 900 hours of hands-on training at a truck dealership, trucking company or independent shop, in segments that last days or weeks at a time. That is matched by a corresponding 900 hours of time in a classroom.
When successfully completed, it gives graduates a diploma of vocational studies (DVS) that can lead the way to a journeyman status.
It's a significant shift from the traditional vocational training model that involved a 120-hour internship at the very end of an 1,800-hour academic program. The interns are also paid $15 per hour for 1,000 hours of work, through subsidies from the Quebec Ministry of Labour, and that's 20% higher than Quebec's minimum wage.
Paying students $15,000 during the course of the program is meant to help people already in the workforce to explore a new career path while still paying the rent and other living expenses.
The guaranteed revenue helps to ensure the students don't abandon the program in favor of a job flipping burgers, says Patrice Lemire, general manager of the Québec City area automobile service joint committee.
"We need to find solutions to the workforce shortage, and short-term, alternating internships are one of those solutions," Lemire adds. Besides, many of the students also work for the matched employers in their spare time, increasing pay, experience and knowledge along the way.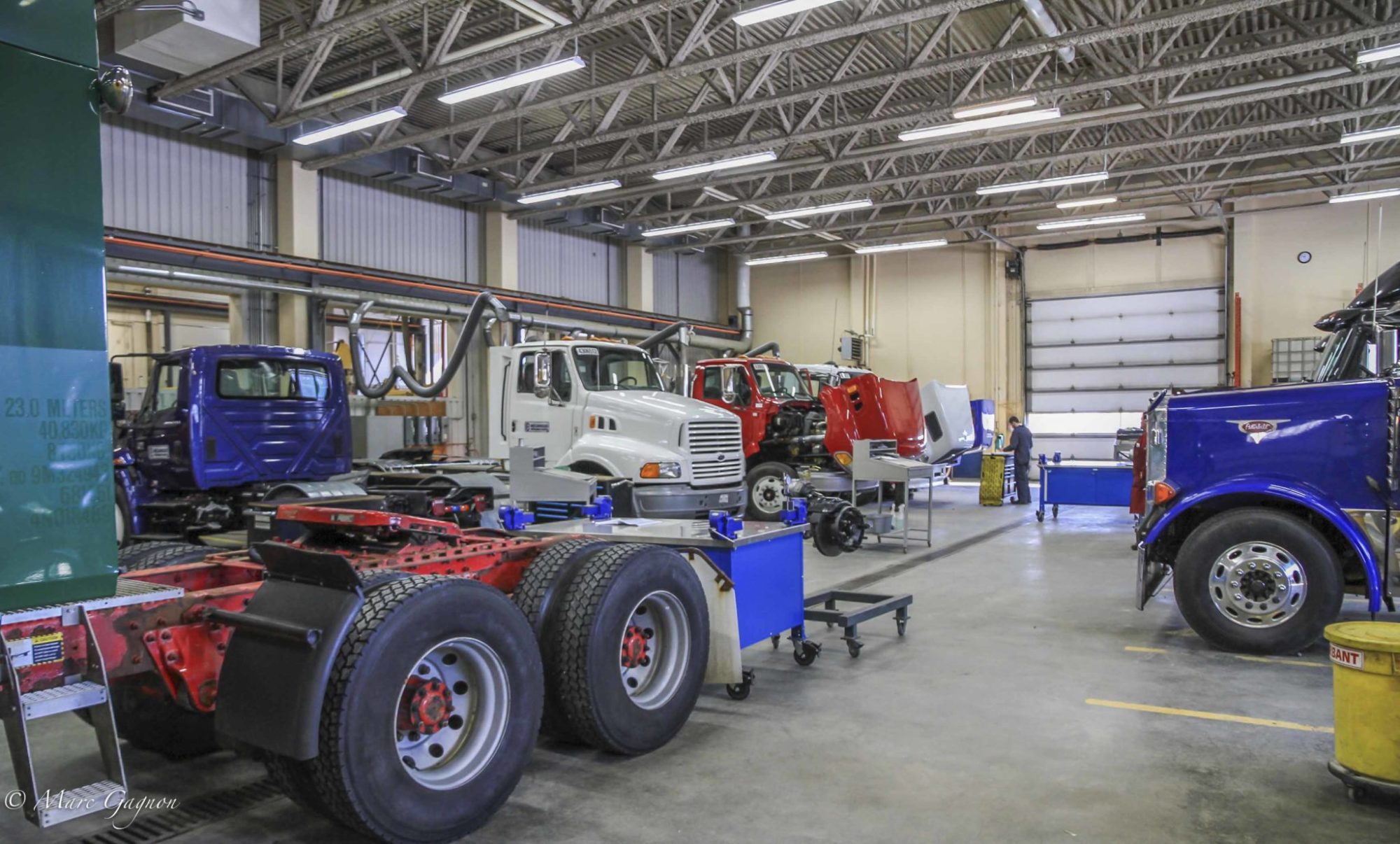 Winning conditions
Such an approach provides "winning conditions" to attract future employees, says Daniel-Étienne Vachon, principal at the Centre de Formation en Mécanique de Véhicules Lourds (CFMVL) in Lévis, Qué.
But building the work/study program from scratch was no easy task.
"Slashing 50% of [the classroom] training program is no little matter. We needed to decide what we would leave to the companies offering the internships and what we would keep at the Centre," says François Renaud, an advisor and teacher at the CFMVL.
Under the DUAL formula, employers need to be actively involved in the education process if they want to access the free workforce and potential recruits. The tasks assigned to an intern need to match the level of skill established in the classroom. An intern beginning a chapter on wheel bearings, for example, wouldn't be asked to rebuild an engine. Neither would they be expected to simply sweep the floor and watch others work.
When returning to the classroom, students are also more inclined to participate in open discussions with teachers rather than simply taking notes.
"We sometimes get challenged," Renaud says. "We get questions we normally wouldn't have from the students because they've been in contact with the component or system we're discussing — and they're able to make their own opinion." Topics that students once considered to be "dry" suddenly generate interest after related exposure in a shop.
Teachers broaden their own horizons in the process. They all require some sort of background in trucking, but now the educators are exposed to different dealerships and carriers when assessing student progress. They secure access to the proprietary diagnostic software used by today's technicians, too.
Practice makes perfect
Karen Lapierre, shop manager at Transport Gilmyr in Montmagny, Qué., has seen a difference in students who are gradually integrated into the shops rather than completing their internships in a single block of time.
"A mechanic in a DUAL program evolves more rapidly than another one following the regular DVS path," she says, offering the example of one student who completed the program and is now considered one of Transport Gilmyr's top technicians.
The fleet invests more effort into an intern's academic progress, she admits. But the results are "absolutely worth it".
Kenworth Québec, a multi-store dealership, also embraced the work/study model. Human resources manager Isabelle Langlois says the company already had a close relationship with the training centre because of the technician shortage, but it's also seen benefits of the DUAL training formula.
"It allowed us to add a string to our bow and attract more people to the potential truck technician pool," she says, referring to the related pay for trainees. "The main difference is that the students first become familiar with the learning content at school and then get to apply it in real life in our shop for two or three weeks at a time."
Jonathan Ouellet-Carrier, 22, was looking at training programs to become a truck driver when he discovered that fixing trucks would be a better fit for his interests.
Now that he's completed the DUAL mechanic internship, he is working at Kenworth Quebec as a full-time technical advisor, receiving customers, listening to them, and gathering the information needed to guide technicians in their diagnostics.
He also appreciated the gradual integration to the trade.
"We learn as time goes on," Ouellet-Carrier says, referring to the in-shop training periods that helped him apply academic content at his own pace.
He encourages others to enter the same program, too.
"You mustn't be scared of starting from scratch. Even if you never touched a ratchet before in your life," Ouellet-Carrier says.
Have your say
We won't publish or share your data