Truck driver safety risks are not limited to the highway
Truck driver Chris Hesch died on the job,
but not on the road. He isn't the only one.
CAMBRIDGE, Ont. — Chris Hesch was always quick to offer a helping hand. It's one of the things his wife loved the most about him. "He didn't care if we were in our own yard, at a truck stop, at a shipper-receiver," says Shelley Uvanile-Hesch, his co-driver and partner in life. "He'd help anybody."
She shares the example of a run to Texas when they came across a driver who was clearly struggling at a scale. Chris jumped out of the cab to help slide the trailer bogies, but also took the time to show how the pins worked and explain the relationship between axle positions and weights. Their Western Star wasn't even waiting for a turn to be weighed.
Things were no different at the Sharp Transportation yard in Cambridge, Ont. The couple had plenty to do on Aug. 18. Their truck still had to be dropped off at a local dealership to address a leak in the air conditioning system. But there was no specific rush. They had completed their latest run. She was chatting with a mechanic in the shop. Chris stepped outside for a cigarette.
"The next thing we know, that driver comes running in and says, 'There's been an accident. Call the boss. Somebody else is already on the phone with 911.' I said to him, 'Accident? What do you mean accident?'
"He said, 'It's Chris'. And I went running over."
Hesch had been crushed between a reversing trailer and the building.
"I knew the odds of my husband being alive were slim to none," she says. "Five minutes before the accident I was talking to him."
10:36 a.m.
Sharp Transportation president Shawn Baird continues to agonize over the events leading up to 10:36 a.m., much of them pieced together from a video camera aimed at the fleet yard. He had been talking to both drivers only minutes before, and was sitting in his office when a fleet mechanic burst through the door.
"Shawn, something bad's happened. We need you out back."
Baird arrived to see Hesch collapsed at the base of an outside wall. He and a contractor administered what first aid they could. "Ambulance, police and fire were record fast," Baird says. "They were here in probably four minutes …"
His voice trails off. The timing didn't matter. Hesch was pronounced dead at the hospital.
An internal investigation, which federally regulated fleets must complete for Employment and Social Development Canada (ESDC), identifies how a series of seemingly unrelated decisions led to that moment.
Moment by moment
Sharp Transportation trailers had all been parked along the street to make way for a sweeper that morning, but the work was called off after a rainstorm. The driver-trainer, a 22-year fleet veteran, climbed behind the wheel of a yard truck and set about the task of re-positioning the first trailer against the building's wall.
The video camera shows Chris watching the truck, stepping around a railing, and then walking behind the trailer. He gestures with his hand, showing that he's ready to serve as a spotter.
"He never saw Chris back there," Baird says, referring to the tractor's driver. The sound of the rattling reefer was enough to mask any voices, too.
The plan was to park the trailers tighter together than usual, to fit a few extra units along the wall. But Hesch had no way of knowing that.
The trailer rolls tight against the railing, blocking a potential escape route. And while Sharp employees usually leave about eight feet of space between parked trailers and the back wall, there are no other trailers to serve as a point of reference. Hesch steps toward the driver's side of the trailer and out of the camera's field of view. The trailer continues to roll steadily backward. Until the wall pushes back.
Most people learned about the loss through Uvanile-Hesch's Facebook page.
"My world has been shattered. I lost my bestfriend, my soulmate, my husband yesterday in a tragic workplace accident," she wrote the next day, in a post next to a picture of the pair. "Please know I am surrounded with family and not alone as I struggle to deal with my loss, I have no words."
The in-yard threat
Sharp Transportation hasn't recorded a fatality or serious at-fault accident in 22 years, Baird says. "That's what keeps me awake at night. How can that happen here — a company that strives to be the safest fleet in North America?"
But the Cambridge, Ont. fleet isn't the only one to record a yard-related fatality in recent months. A Kriska Transportation employee was struck and killed by a truck in a Mississauga, Ont. yard on July 29. A Bison Transport employee was killed in a Calgary yard just before Christmas, as his co-driver was coupling to a trailer.
All three fleets have strong safety ratings, and fleet yards are designed as controlled environments that limit everything from speeds to access points.
The low-speed hazards don't end in fleet-owned yards. On June 9, a National Auto Transit driver was killed while working under his truck at a fueling station in Pickering, Ont. A co-worker hopped into the cab and began to move the truck without knowing anyone was underneath it.
The exact number of yard-related injuries and fatalities is difficult to determine. Ontario's Ministry of Labour tracks injuries among fleets that work entirely within the province; ESDC is responsible for tracking events that involve federally regulated fleets which cross provincial borders. Ontario's Workplace Safety and Insurance Board (WSIB) doesn't track claims involving self-insured fleets.
Last year, the Infrastructure Health and Safety Association (IHSA) counted 33 lost time injuries associated with Ontario workers who, in the words of statisticians, contact machinery.
Risks around moving equipment
"Wherever you've got exposed people with moving equipment, you're going to be at risk," says Michelle Roberts, IHSA's director – stakeholder and client engagement. On-road accidents may get more attention because they occur at higher speeds and can involve the general public, but the risks at lower speeds are no less real.
There are ways to minimize such risks. Policies and procedures can limit speeds, posted signs can remind drivers what those speeds should be, and physical barriers can segregate walking traffic, IHSA says in a series of safety materials. And there always needs to be a steady line of communication between drivers and spotters alike.
"The most tragic circumstances tend to happen when the vehicle is reversing," Roberts says, referring to the value of everything from spotters to reflective apparel, extra mirrors, warning devices and backup alarms. "Workplace policies and procedures are only as strong as what's communicated to everybody, and is it being enforced," she adds.
Policies and related enforcement are top of mind at Sharp Transportation, Baird says. Everyone is expected to wear reflective vests in the yard. The rule has always been there, but now it's more tightly enforced.
Trailers are now re-positioned using a late-model day cab, too. The old yard tractor wasn't seen as a factor in Hesch's death, but it did have mechanical defects. It wasn't even plated. Then again, what yard tractor is, Baird asks. "All of us fix them when they break."
Once the investigation was completed, he had the truck destroyed.
"I don't think a lot of companies give attention to their yards," he says. "A lot of trucking operations can learn from this."
Spreading the word
Uvanile-Hesch is clearly committed to spreading a safety-focused message.
As the founder and CEO of the Women's Trucking Federation of Canada, she was already an advocate for driver safety. It was a central theme during the group's second annual conference, held just weeks after Hesch was killed. She has also been involved in Ontario Ministry of Labour focus groups looking to identify the top risks to truck drivers, no matter where they might occur.
She says Hesch had become increasingly discouraged about the trucking industry's safety practices. Ongoing training and retraining were embraced as a fact of life when he worked at a cheese factory, before he earned his licence 18 years ago so they could spend more time together. He didn't see the same level of commitment in trucking, Uvanile-Hesch says. "That really bothered him."
"Carriers still don't have the health and safety of drivers up high enough … as an industry we've become complacent," she says. "There's not enough yard training, and there are a lot of people who assume, 'Why do I have to wear a safety vest?'"
Uvanile-Hesch doesn't know when she will climb back behind the wheel. Or if she will.
But she knows one thing for certain. "I plan to get very vocal on these safety issues."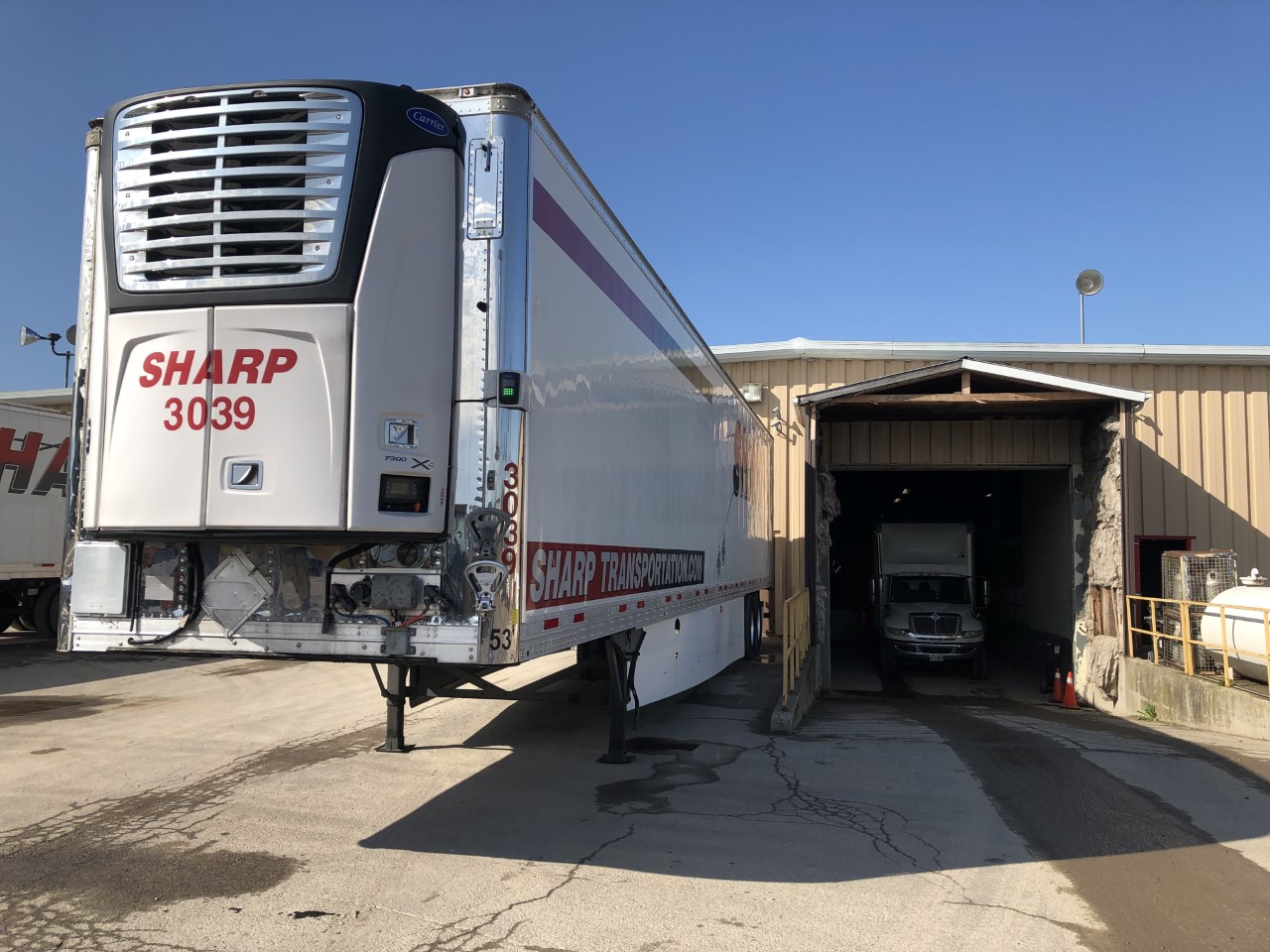 6 ways to make
your yards safer
Thorough site assessments can help to minimize the risks associated with a fleet yard, the Infrastructure Health and Safety Association (IHSA) says. Various controls can help to make a difference.
Yard layout – Manage the flow of traffic and limit speeds, while leaving designated spaces for trucks to load, maneuver and park. Physical barriers and designated areas can separate vehicles and pedestrians, while lighting can be used to highlight structures and people alike.
Vehicles – Consider extra mirrors or other technologies to reduce blind spots, as well as devices like backup alarms that identify reversing vehicles.
Formal policies, procedures and best practices – Identify speed limits, and situations in which a spotter would be required.
Training and communication – Improve the awareness of hazards, and steps to be followed when communicating with drivers, pedestrians and signalers. Drivers should also understand how to check surroundings before reversing.
Supervision, communication and enforcement – Policies need to be communicated to everyone in the workplace, including employees, contractors, temporary workers, and visitors.
Engage with workers – Discuss near misses and close calls, and use those as opportunities to investigate contributing factors and potential controls. Also take the time to evaluate existing controls to see how effective they are.

Have your say

This is a moderated forum. Comments will no longer be published unless they are accompanied by a first and last name and a verifiable email address. (Today's Trucking will not publish or share the email address.) Profane language and content deemed to be libelous, racist, or threatening in nature will not be published under any circumstances.