Truck driver shortage? Think again, says U.S. labor expert.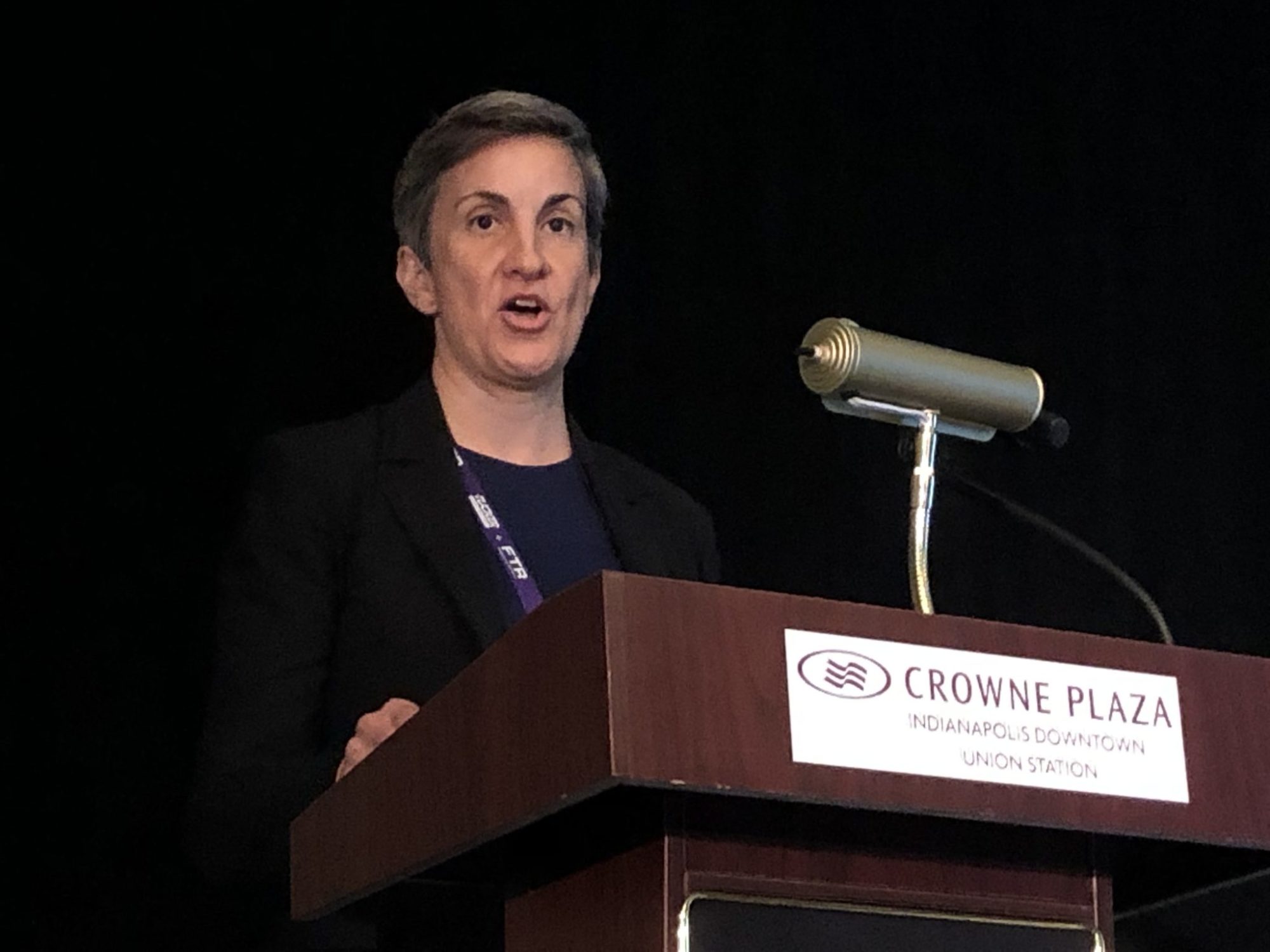 INDIANAPOLIS, Ind. – Cries of a looming — or existing — truck driver shortage are echoed on both sides of the border. They regularly emerge in employer surveys that identify trucking's biggest challenges, and positions taken by industry lobby groups.
Kristen Monaco doesn't buy it.
The associate commissioner at the U.S. Bureau of Labor Statistics' Office of Compensation and Working Conditions challenges several long-held beliefs about the demand for new truck drivers.
"If I had a dollar for every time I heard 'truck driver shortage', I wouldn't be here today," she quipped during FTR's annual conference, referring to her two decades of related experience.
References to a truck driver shortage are a cyclical issue, she told the crowd.
These days the concerns are undeniably backed by references to new regulations that require electronic logbooks and drug tests, as well questions about long-term career opportunities against a backdrop of autonomous trucks. But the demand for labor always tends to return to an "equilibrium", Monaco said, adding that there is little evidence that the labor market is broken.
Studies of a truck driver shortage
Recent research by the American Trucking Associations (ATA) begs to differ. As 2018 came to a close, the industry was short 60,800 drivers when looking at the number needed to haul freight, the lobby group said this summer.
"Over the past 15 years, we've watched the shortage rise and fall with economic trends, but it ballooned last year to the highest level we've seen to date," said report co-author Bob Costello, the ATA's chief economist. "If conditions don't change substantively, our industry could be short just over 100,000 drivers in five years, and 160,000 drivers in 2028."
Such dire predictions are not limited to the southern side of the border. A study commissioned by the Canadian Trucking Alliance suggests there will be a shortage of at least 34,000 truck drivers by 2024 – reflecting 25,000 truck drivers needed to address  increasing demand, and 9,000 to offset those who leave the trucking industry.
Monaco counters that there's a difference between an industry segment's struggle to find employees and a true labor shortage.
"If you're a carrier who doesn't always have your trucks filled, that's not evidence that there is, and of itself, a shortage," she said. "If you want to attract more drivers into the market, they will react to wage increases."
Rising fleet bankruptcies
Monaco cited the push for higher wages as a factor that is putting a "squeeze" on some carriers, leading to a surge in company closures.
"We are seeing carriers losing authority at a higher rate than we've ever seen it," FTR's vice-president – trucking Avery Vise said only hours earlier. But even he noted that has been offset by an even higher number of for-hire trucking companies securing new operating authority.
Admittedly, industry employers can be reluctant to introduced "sticky" wage increases that are difficult to pull back in slow times, Monaco said.
"The spot market heats up, but the spot market is not the market. A lot of what we see in truckload is contract rates."
Truck driver turnover rates
There is a difference between driver turnover and a driver shortage, the analyst added, suggesting that annual truck driver turnover rates of 5-20% — like those experienced by LTL carriers – are typical among workers with relatively similar skill sets. Private carriers report turnover rates of 3-15%, too.
Even among truckload carriers, who report annual turnover rates of around 100%, many of those drivers remain in trucking. They're simply attracted to the promise of another carrier.
"Companies are using turnover as a way of filling trucks," she said, referring to carriers who begin actively recruiting as the economy heats up and more freight needs to move. And when drivers realize that the annual pay isn't as high as promised, they jump again.
"In the aggregate, you have nearly enough drivers, but they're always switching companies."
When fleets need to fill seats, they often turn to hiring bonuses and ramp up individual recruiting efforts. "That," she said, "causes churn."
The number of employed truck drivers in the U.S. is actually rising at a faster rate than workers with similar skillsets, Monaco said, referring to other blue collar jobs.
The kind of worker trucking companies want has admittedly changed over the past 20 years. Although the minimum level of formal education is not that high, there are demands for more prior experience, on the job training, and the time it takes to become licensed. The drivers of heavy trucks and tractor-trailers need 50% more vocational preparation than they did 20 years ago, she said.
Then again, there are still those who are willing to accept someone who merely has a CDL.
Monaco even challenges those who raise the fact that the average truck driver is older than a typical worker.
There's a perception that truck driving was an occupation for a young person, she said. "Historically, it never was."
In the U.S., the median age of an over-the-road truck driver is 46, Costello said earlier this year. For private fleet drivers, the median is closer to 57.
While those ages look older than the past, they're simply climbing along with the age of a typical male worker, Monaco said, stressing that new drivers often turn to trucking after working in another occupation. That means they'll naturally enter the driver pool later in life.
"There are segments of the market that don't work especially well," she said, referring to forecasts repeated by groups such as the American Trucking Associations. "I think we disagree on the size of those segments."
Have your say
We won't publish or share your data