Context: Understanding electric trucks
Electric trucks are coming to market on the strength of their lack of tailpipe emissions. Can the trucking industry get over the cost, weight and range hurdles?
Electric trucks seem to be all the rage today, just as natural gas was to be the industry's salvation just a few years back. There's not much excitement in natural gas today, though it remains a viable alternative fuel. Electric trucks, on the other hand, are just beginning their climb to prominence. Interest in electric trucks peaked in November with the world's first look at Tesla's Electric Semi. Whether Tesla can carry the torch for battery-powered heavy trucks remains to be seen, but Elon Musk isn't only player in the market.
I drove a fully electric plug-in Transpower USA Class 8 tractor back in 2015. That truck had been in field tests at the port of Long Beach, California, for two years prior to that. The company made headlines recently announcing a partnership with Meritor that will make its technology commercially available in the spring of this year.
There are a handful of others too: Motiv Power Systems, BYD, and others. Chinese-owned BYD is backed by Warren Buffett, and plans to open an assembly plant in Ontario sometime this year.
In August, Cummins threw its hat into the electric ring with the unveiling of a concept truck called AEOS. Contrary to popular belief, Cummins is not getting into the truck manufacturing business.
"Our power electronics teams and controls groups will be using it as a test vehicle as we develop the next generation of components for our electrification business," said Julie Furber, executive director – electrification business development at Cummins.
A new player, Los Angeles-based Thor Trucks, has developed a truck it calls ET-One. It made news in December with a video clip of the truck operating in southern California. This one is still early in development, but it has attracted more than a little investor attention.
Navistar and Volkswagen have stated publicly they intend to have medium-duty truck in service by 2019, too.
Oddly, much of the public's attention has focused on an on-highway, over the road electric truck, which is probably the least-practical candidate for electrification. Yard tractors, refuse or utility trucks, port drayage trucks and the like — with limited service ranges and less sensitivity to weight — are more plausible options. Indeed, many such trucks are already in service.
TranspowerUSA has a fleet of more than 20 trucks running 80,000-pound loads around the Los Angeles basin. Their current range is about 160 kilometers with a battery pack weighing between 4,000 and 5,000 pounds. That isn't much heavier than the diesel engines they replace. Transpower also operates yard tractors and school and transit buses.
Motiv Power Systems of Foster City, California, has refuse trucks on trial in Chicago where they reportedly manages routes of about 100 kilometers with an 18,000-pound payload while running a hydraulic compactor.
Other companies such as Workhorse and Chanje are building Class 5 and 6 delivery trucks with ranges of 160 to 300 kilometers, ideal for local and regional pickup and delivery operations and so-called last-mile deliveries.
Chanje's chief executive, Bryan Hansel, the head of Smith Electric Vehicles until 2015, says the Model V8070 was conceived as an all-electric vehicle. It's not a retrofitted, fossil-fuel van.
"It was purpose-designed as a BEV from the ground up," he says. "We will be producing these on a global scale so they will be economically priced. In fact, the purchase price will be on par with a similar diesel vehicle but with 70% lower energy and maintenance costs. The pass-through savings will come from our battery leasing program and energy supply service."
Then there are the lighter medium-duty trucks, such as Mitsubishi Fuso's eCanter, which premiered at the IAA show in Hanover, Germany, last fall and made its North American debut in October. It's a Class 4 with a battery capacity of 70 kWh and a 185 kW motor. Depending on the body, load and usage, it has a range of more than 60 miles with a payload of more than 5,000 pounds. The company says in designing the powertrain, it chose to favor higher payloads rather than extend the potential range of the truck, based on the preferences of European customers who are already using the previous generation of the truck, the Fuso Canter E-Cell.
Approximately a third of the 8 million fossil-fueled trucks and buses in North America are ideal candidates for electrification. These vehicles drive planned local routes of less than 160 kilometers a day with a lot of starts and stops, and they usually park at a depot overnight, which typically has the infrastructure necessary to charge the vehicles.
As for Class 8 line-haul trucks? Not likely, says Furber.
"The current battery technology just isn't ready for the linehaul market where trucks can run up to 140,000 miles [225,000 kilometers] annually," she says. "We've done some rough calculations that show you'd need a battery that weighs 22,000 pounds to complete a full day's driving at highway speeds."
Benefits, challenges, batteries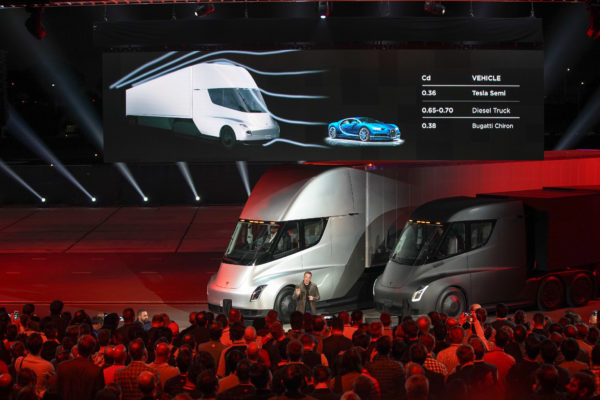 Musk claims his Electric Semi will run up to 800 kilometers on a single charge at highway speeds at full gross weight, but he didn't disclose any details about the size, weight, or cost of the battery pack.
We made several attempts to contact Tesla Motors seeking insight on their battery systems but they never returned our calls and email messages.
Instead, we found a report in Wired magazine, from June 2017, that suggests the Tesla Semi will run a lithium-ion battery system that generates 243 watt-hours per kilogram at the cell-level. To cover about 1,000 kilometers without stopping to charge, the authors say, the truck would need a 14-ton battery — which isn't out of line with Furber's estimates. Based on current prices, those packs would cost between US $290,000 and $450,000. The authors also note that a next-generation "beyond-lithium-ion battery-pack" could provide a 1,000-kilometer range at a cost of about $180,000, leaving enough room for a payload of about 16 tons.
While weight is still a significant concern according to many observers, battery costs could become less of an issue in the future. Last July, Bloomberg New Energy Finance analyst Claire Curry reported that lithium-ion battery prices have tumbled since 2010, dropping from roughly $1,000 per kilowatt/hour then to about $275 in 2016. With prices stabilizing at some level close to this, Curry believes that BEVs will accelerate to 54% of new car sales by 2040. "Tumbling battery prices mean that BEVs will have lower lifetime costs, and will be cheaper to buy, than internal combustion engine cars in most countries by 2025-29," she notes.
Among the many questions still to be answered is how electric trucks will play in the maintenance sphere. Since BEVs have fewer moving parts that are prone to failure, the big questions is, how long could they last? What's the vehicle's lifecycle going to look like?
"The current useful life of a typical diesel is five to six years. If these BEVs start going out 10, 12 or 15 years, what will that do to fleet trade cycles?" asks Scott Perry, who was until recently the chief technology and procurement officer for Ryder Global Fleet Management Solutions. "What will happen to the value of traditional trucks if electric vehicles gain sudden market acceptance?"
Voluntary or regulatory adoption
So what will it take to make all this talk of zero-emissions commercial vehicles a reality? Many fleets still struggle with the cost of the things; others see the limited range of some vehicles as an insurmountable hurdle. But solutions are there: fuel cells, range extenders, more batteries, etc. Or, just having a close look at the route and service areas and deciding where trucks can work and where they won't. Like anything in the trucking business, the term one-size-fits-all just doesn't apply.
"There are four of five key factors that will drive adoption in the near term, says Cummins' Furber. "Regulation, technology readiness, technology cost, charging infrastructure, and finally the Total Cost of Ownership [TCO] calculation. Regulation could drive small scale adoption in certain areas, such as California. We know that in trucking, TCO is going to be what plays out as the main driver.
In Perry's opinion, electric trucks are the next wave. "It will start in the light and medium duty classes where the technology is available today, and spread to the heavier classes as the technology proves itself," he says. "Regulations will drive adoption as well. We've seen cities like London, Paris, Athens, and others banning fossil fuel vehicles in city cores. Some U.S. cities are looking at that, too."
But there's nothing like public opinion to motivate regulators. The public seems to be leaning very heavily in the electric direction. And there are the image-conscience shippers. Last year, Chattanooga, Tennessee-based U.S. Xpress held a customer summit where Trevor Milton, Chief Executive Officer of Nikola Motor Company, made a presentation on hydrogen-powered trucks.
"As a group of shippers, they were pretty excited," said U.S. Xpress executive chairman Max Fuller. "Some of them are now trying to lock in all the electric trucks they can get. They like emissions-free. That's the image the shippers want."
Can the grid handle electric trucks?
Very few new large-scale power plants have been built in Canada in the past 10 years, yet demand for electric energy is sure to rise, fueled by interest in Battery Electric Vehicles (BEV). Does the grid have the capacity to handle the expected infusion electric cars and trucks? The short answer is yes, but some adjustments may be necessary.
Demand for electricity is not constant throughout any 24-hour period, so the time of day when the energy is required has a very large impact on the grid's ability to meet demand.
Since our electric grid has no storage capacity, power generation and transmission must be continuously managed to match fluctuating customer load. If the growing fleet of personal and commercial BEVs were to be plugged in all at once, on top of today's regular daily demand, it would be a big problem. But BEVs for the most part will charge overnight when demand is lowest. Once the commercial fleet reaches a critical mass, this will allow energy producers to run their facilities at higher and more efficient output during overnight periods of traditionally lower demand.
A secondary advantage now being tested is to have the batteries on individual vehicles serve as a sort of surge protector for the grid, and as a buffer in the event of a significant disruption in transmission — such as a blown transformer or a downed high-tension power transmission line. They could also provide fill-in capacity at times when wind or solar output may be diminished.
Writing in the New Journal of Physics, researcher Andrej Gajduk notes that potential benefits of a Vehicle-to-Grid (V2G) concept include offering a possible backup for renewable power sources including wind and solar power, load balancing by valley filling, and peak load shaving among others. "The V2G concept can improve grid efficiency, stability, reliability," he writes, "and can reduce utility operating costs and even potentially generate revenue for the consumer."

Have your say

This is a moderated forum. Comments will no longer be published unless they are accompanied by a first and last name and a verifiable email address. (Today's Trucking will not publish or share the email address.) Profane language and content deemed to be libelous, racist, or threatening in nature will not be published under any circumstances.