New $30 million facility brings more than service to California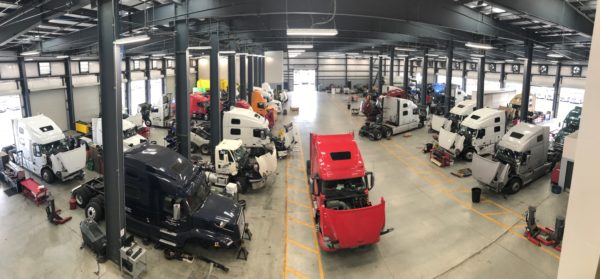 FONTANA, Calif. – Drivers travelling through Southern California have a new place to stop for service, parts, and much more.
Tec Equipment recently opened a US $30 million sales, service, and parts facility that aims to bring a complete experience for customers.
The new 174,000 sq.-ft. shop sits on 14 acres in one of the most heavily travelled areas for commercial trucks in North America – that's the size of more than two football fields laid end-to-end inside.
Part of a network of 26 Tec Equipment locations in five western U.S. states, the new location is just the latest from founder David A. Thompson who started the family business in 1976.
Now run with the help of sons David O., Chris, and William, the company partners with Mack Trucks, Volvo Trucks, and Wabash Trailers as a dealer.
When it comes to service the new Fontana location has room to service an astounding 102 trucks inside at the same time, with additional quick repair and assessment spots outside as well.
Drivers pulling into Tec Equipment will have access to more than 400 parking spots, each distinctly numbered so drivers and technicians know where every truck is at all times.
Service greeters meet the drivers and trucks when they enter, using tablets to register trucks and assess the issues immediately so there isn't any waiting. Parts greeters help those coming in to that department in a similar manner. Thompson says the idea behind the greeters was to help maximize uptime and make sure drivers aren't left hunting for help.
The service bays are separated by the work that needs to be done so the right technician can be paired with the right job. Bay designations include slots for quick in-and-out jobs, jobs less than four hours, longer jobs, transmission bays, and more.
Thompson says the organization process has reduced dwell time from a four-day average to a two-day average.
While drivers are waiting for service to be completed they have access to a 1000 sq.-ft. lounge complete with couches, internet and computer access, laundry facilities, showers, vending machines, and a flat screen television. Thompson says the lounge will also be getting a pool table in the future.
A 2.2-acre parts warehouse is jumping, with 16 dedicated drivers working on two shifts making deliveries every day. The parts department also includes a 4800 sq-ft. parts lobby, to showcase new and commonly purchased items, and welcome customers.
The new location will even feature a 4400 sq.-ft. training theatre, with certified Mack trainers dedicated to "training the trainers" says Thompson.
Although the training theater is still under construction, it is expected to be open in the next few months. The rest of the facility is open now.
Those looking to take advantage of the new Tec Equipment location can find it at 14400 Randall Ave. in Fontana, Calif., about an hour east of Los Angeles.
Have your say
We won't publish or share your data