Peterbilt brings 'purposeful innovation' to Silicon Valley
SUNNYVALE, Calif. – California's Silicon Valley is known as a hotbed of high technology, and the Paccar Innovation Center is in the midst of it all.
The 26,000-sq-ft facility is designed to house 50 employees, featuring a five-bay truck lab and fabrication area complete with a 3D printer for working on prototypes. But perhaps more important is the way the space is being used to collaborate on trucks and systems of the future – tapping into in-house expertise as well as the work of other companies in the famed valley.
Many high-tech ventures begin developing their technologies for passenger cars, so there's little surprise that other companies with a presence in the area include the likes of Denso, Bosch, Mercedes-Benz, Tesla, BMW, Toyota, Ford, and Volkswagen. But often there is a bigger commercial opportunity for the technology in trucks, says Jake Montero, general manager of the innovation center. "There's a business case to be made."
And Paccar wants to be involved when such cases emerge.
"Purposeful innovation is continuously ingrained in every aspect of our business," explained Peterbilt general manager Jason Skoog, during a tour of the facility, the only such truck-focused space in the area. "We deliver these options when infrastructure and regulations can support it."
"New products or services must have a real-world application and offer a timely return on investment," he added.
The Innovation Center's work touches several specialties. Connectivity projects look at vehicle uptime, artificial intelligence, and advanced fleet management. Driver interface research explores the driver's environment, the human-machine interface, and augmented reality. Those focusing on driver assistance systems are looking at road user safety, increased driver productivity, and increased capacity.
Think electric powertrains, advanced driver assistance systems, connected truck technologies, and more. They're all being researched here.
Electrification is clearly among the systems at the top of mind. "You rarely go into a customer meeting that it's not discussed," Skoog said.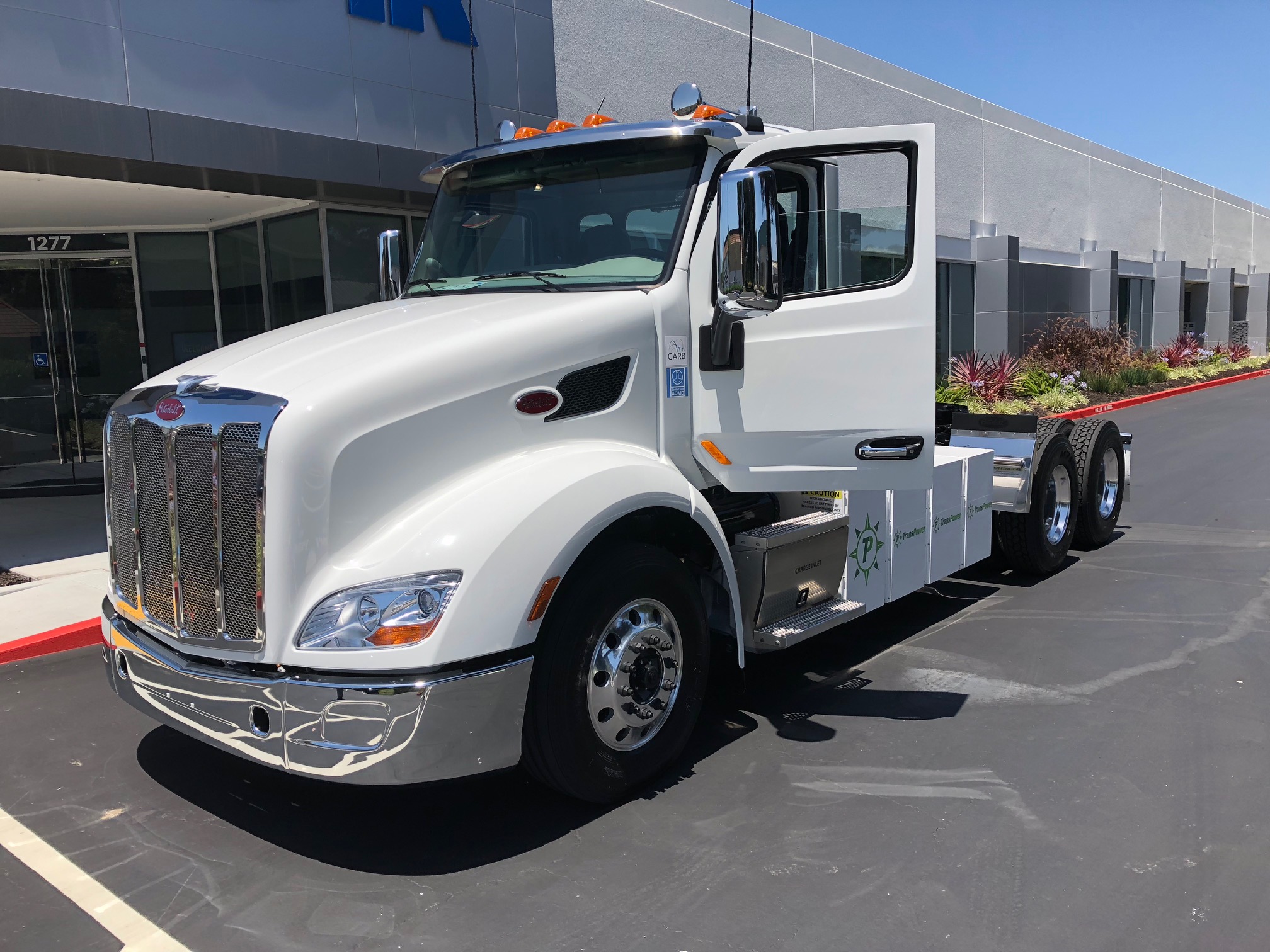 Battery-electric vehicles
Peterbilt is currently focusing electrification efforts on three models – Model 579 drayage trucks, Model 520 refuse vehicles, and a medium-duty Model 220 to come. Those have emerged through work with TransPower, which began two years ago.
The company's work on electric vehicles actually reaches back decades, of course, with a series electric hybrid tractor unveiled in 1998. Parallel electric hybrids came in 2006, and a parallel hydraulic hybrid system came in 2008, while the Walmart Advanced Vehicle Experience (WAVE) prototype included a range-extended series hybrid powertrain in 2014. But the latest trucks are taking critical steps toward commercialization.
The Model 520 prototype, for example, stores enough power to complete a 900-bin route and travel 130 km between charges. Its four battery modules can be replenished with a 70 kw charger in just six hours.
The Model 579 features eight 44-kw battery packs, each weighing about 825 lb., although more could be added. Its two centrally mounted Jing-Jin Electric (JJE) motors sit in front of a 10-speed Eaton AutoShift transmission, offering power equivalent to a 450-hp diesel engine. The same truck was used to move 160,000-lb. gross vehicle weight, as it shuttled a windmill off a ship.
With a 200-amp charger, the batteries can be replenished in as little as four hours, too.
"They never get the vehicle down to 0% battery," adds Matt Vito, TransPower's integration and service manager. In addition to other charging through a typical day, and the power created through regenerative braking, the system builds in a buffer to ensure the batteries always hold 10-20% of their maximum power.
"We're not so worried about the time you charge. It's the amount of time you bring the batteries down to a certain threshold," Vito says.
More gains will come. TransPower expects its next generation of batteries to increase energy density by about 50%. The challenge is always about striking a balance between the power and price.
Driver assistance
Work on driver interfaces, meanwhile, is exploring ways to feed drivers vital information while hands stay on the wheel. "You have to make sure it's good voice technology. Not all voice technology is equal," Newhouse said as one example. Information also needs to be prioritized, pushing warnings forward when they need to be front and center.
Peterbilt's "roadmap" for advanced driver assistance systems (ADAS) began with auto emergency braking in 2017, and will expand to stop-and-go traffic in 2018, and lane keeping and platooning in 2019. Then the focus turns to object detection. "That's where the truck will perceive its environment," Montero says. By 2021 Peterbilt expects inward-looking sensors will be introduced to help identify distracted driving or fatigue.
The Bendix Wingman Fusion system is already a standard offering on the Model 579, with orders for that to begin next week. That will manage following distances, and offer auto emergency braking, adaptive cruise control, lane departure warnings, and over-speed alerts.
And the innovation hardly ends there.
Another tool expected to emerge from the center in late 2019 is Peterbilt AR Tech, an augmented virtual reality tool that scans a truck's VIN number and presents the view of a truck's underlying wiring through a computer tablet. In some ways, it looks like an X ray as the tablet's camera is pointed at a truck, and transforms CAD computing models into 3D images. Technicians could soon use it to see the layout of a wiring harness and zoom in close enough to see the pin locations on connectors.
In early tests, repair efficiencies have increased 15-20% on work that could use the tool, Skoog says.
"The technology can take you beyond the driver's seat," said Peterbilt chief engineer Scott Newhouse, referring to augmented reality.
The company launched its SmartLinq diagnostics system in 2015 and has since connected about 150,000 trucks. Over-the-air engine updates this year will soon be joined by predictive maintenance tools for mobile service techs, and a "dashboard" to track fleet operations and help optimize routes in 2020.
As for autonomous vehicle research, such as one model sitting in a test bay?
"These technologies can increase driving hours potentially, and that would increase capacity," Newhouse said, referring to platooning as just one example.
The innovative work even expands beyond the trucks alone, as teams look for ways to leverage Silicon Valley's expertise to improve the work of financial services teams, parts distribution, and manufacturing.
"We will bring these to the market as they're ready," Newhouse said.

Have your say

This is a moderated forum. Comments will no longer be published unless they are accompanied by a first and last name and a verifiable email address. (Today's Trucking will not publish or share the email address.) Profane language and content deemed to be libelous, racist, or threatening in nature will not be published under any circumstances.