TORONTO, Ont. –When I was just four years old, my mother liked to remind me, I once told a kids' TV show host that when I grew up I hoped to become either an astronaut or a garbageman. Talk about hedging your bets. I'll likely never make it onto orbit, but I did finally get a drive in a garbage truck. Mack's new LR model, actually, and it was worth the wait.
Mack introduced the LR model at WasteExpo in 2015 in response to demand from refuse companies for trucks that were easier to maintain and did more with fewer workers. The LR — which stands for Low Ride — is a one-worker operation designed to collect trash from residential streets using a front mounted side-loader.
It can be driven and operated from either the right-hand or left-hand side, with a complete set of controls on each side. From the right-hand side, it can be driven from a sitting or standing position, but speeds are limited to 30 km/h. Because the mirrors need to be repositioned when switching sides, the truck has a mirror-memory switch so drivers can transition easily from left to right and back again.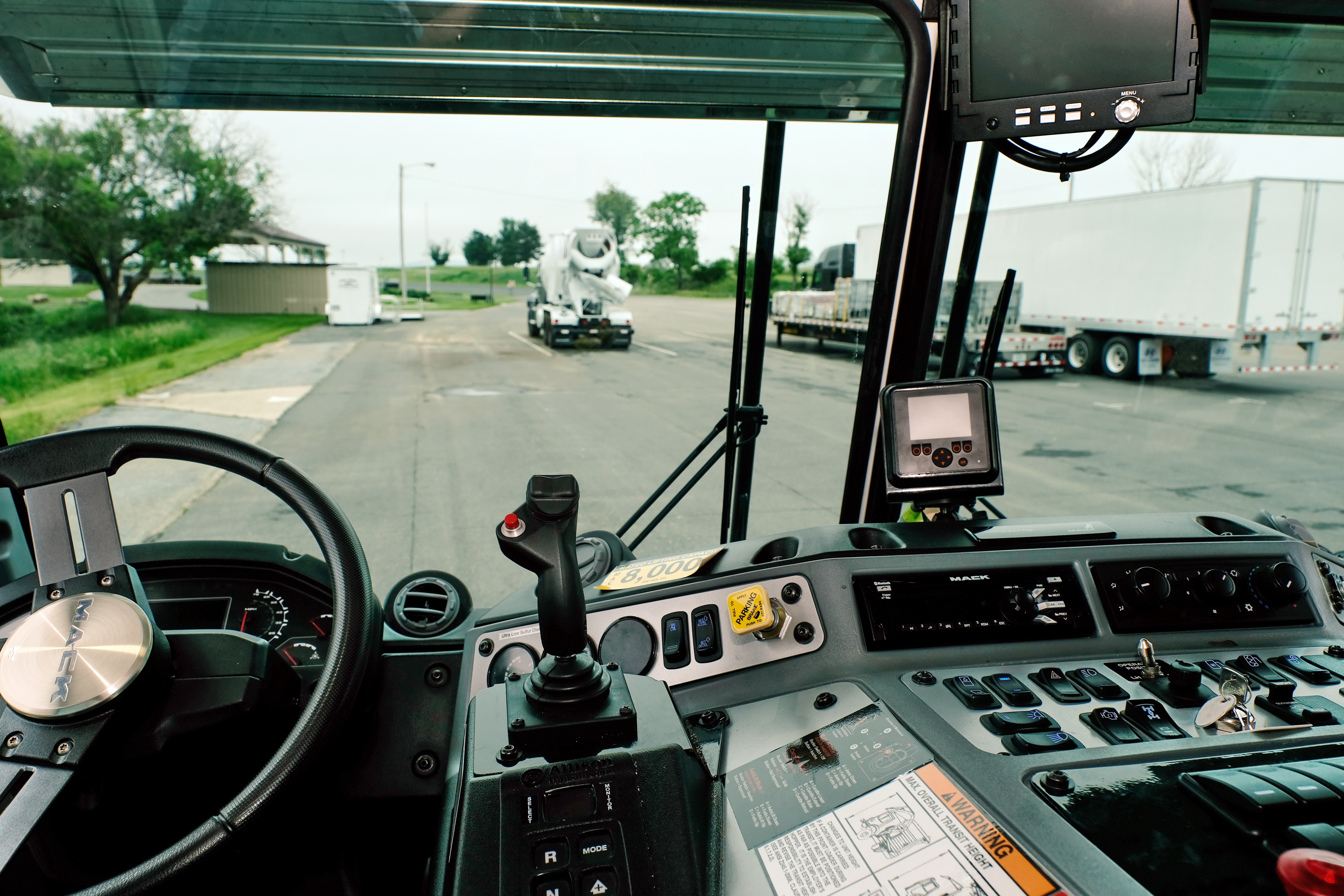 The cab
The left side driving position is pretty cozy. The big doghouse occupies most of the real estate in the cab, leaving just enough room for the driver. The controls are super close to the driver and the truck has a surprisingly small steering wheel. The main gauge cluster is actually attached to the tilting steering column for optimum visibility at all wheel positions. The exterior visibility is remarkable given how low you sit — the floor is just 17 inches off the ground. There are mirrors everywhere to help you see above and around the cab, and there's a camera system with a bright split-screen display for side and rear vision.
Over on the right side, the controls are designed for stand-up operation, with different pedal and steering wheel angles. There's an adjustable half-sized seat that designed more to lean against that sit on, and the right-hand door is split halfway up so the top half can open with the bottom part remaining closed for driver safety. It can be driven with the door open as well, thanks to a latch behind the cab.
Also on the right-hand side is a clever "work brake" lever that makes a 60-lb. brake application with the service brakes and holds it if the driver has to leave the cab. It applies and releases instantly, unlike traditional spring parking brakes, which take time to release and consume volumes of air.
The cab isn't what you'd call quiet, but it's much less noisy than you'd think, given that you're sitting beside — like right beside — the engine and various hydraulic systems.
The cab roof was designed to prevent guck leaking from the trash bins to mess up the windows. There's a rain-gutter of sorts around the roof that channels the stuff away from the glass.
There's little wasted space in the LR cab, but Mack saved a little room for driver amenities like two beverage cup holders and two spots for large 2-litre bottles. There's a storage rack on the back wall for clipboards and other flat stuff as well as a tray that will collect the inevitable pens, phones, keys and personal stuff.
Routine maintenance
The LR was designed to make body installation as clean and simple as possible, and the exterior of the finished truck seems remarkably uncluttered with cables and hoses and the like. While one can only imagine how gross crawling under a loaded refuse truck would be to perform maintenance and repairs, Mack and body builder, Heil, have included supplementary hydraulic fittings for an external hydraulic pump so the truck can be off-loaded in the event of an engine or hydraulic failure.
The windshield is flat glass to keep cost down and is "roped" in for quick change outs. The LR has two separate windshield wiper motors that can be replaced separately by removing four screws. Same with the grille assembly.
Driving the LR
I know from experience writing about brakes and powertrains that the refuse trucks see the most brutal service of almost any application. Drivers are often incentivized to get their routes done as quickly as possible, so they tend to drive the trucks pretty aggressively. Mack's vocational brand manager, Curtis Dorwart, joked before the drive began that the LR has a binary throttle, "Two positions; idle and full."
That's not true, of course, but the combination of the 355-hp MP7 engine and the six-speed Allison 4500 RDS would sure get up and go. But for a rookie like me, the powertrain was remarkably easy to keep under reign. A simulated stop-and-go driveway collection on the skid pad at Mack's Allentown Customer Centre was smooth and comfortable, with plenty of juice to spare (no pun intended) and smooth positive stops from the 17-inch Meritor EX-Plus air-disc brakes.
The truck boasts a 45-degree wheel cut, even with the 20,000-lb axle and the big 425/65R22.5 Bridgestone M860A tires. (Dorwart says even when empty the front-end weighs close to 20,000 pounds. As it picks up trash, weight is transferred to the rear axles, lightening the load on the steer axle.)
Dorwart and I went booting down a couple of residential streets and cul-de-sacs, to get a feel for the LR's working environment. It's extremely nimble for its size and the visibility is great. I was shocked, though, at how much there is to watch out for on a residential refuse route. You're on narrow streets, you may well have trees overhead as I did and there's the constant threat of pedestrian, kids, bikes, people backing out of driveways, etc. on residential streets. One big potential threat would be inadvertently raising the Curotto-Can dumper while under a tree or overhead wires. The driver would have to maintain total situational awareness at all times, and the LR does its part with exceptional visibility.
We looped back to the Customer Centre on I-78 to get a feel for highway driving. Despite being empty, I thought it rode surprisingly well. It was noisier in the cab at high speed, but given the driver's proximity to the engine, the roar was pretty tame.
I won't comment too much on the trash collection controls (the joystick) except to say that they seemed well-positioned. The driver would have to learn to run them with either hand because of the two driving positions. The switches that run the hydraulics are centrally located across the top of the doghouse, which required that I stretch out of the seat to read them. I'm sure a more experienced driver could find them in his or her sleep. And I'll add this; controlling the collection arm and grapples takes a bit of finesse, more than I apparently possess as I kept knocking the can over while trying to pick it up. You can imagine what that would be like on a real trash collection route.
While I don't believe that this side-loading method of trash collection is widespread in Canada, it's big in the U.S. where Mack commands an impressive share of the refuse market. Dorwart told me Mack spent a lot of time listening to what customers wanted in such a truck and based on order intake the truck maker seems to have got it right. My limited experience with such trucks precludes any expert opinion, but I think the LR is the kind of refuse truck I'd want to drive — provided I hadn't previously been assigned a mission on the Space Shuttle.
Mack LR Spec Sheet
Model: Mack LR Refuse Truck with left- and right-hand steer
Engine: Mack MP-7 355A 355 hp, 1,280 lb-ft
Transmission: Allison 4500-RDS-6-speed automatic
Front axle: Mack FXL20 20,000 lb.
Rear suspension: Mack S246R, 46,000 lb.
Rear axle: Mack mRide, 5.31:1 ratio
Brakes (front and rear): Meritor 17 in. EX-Plus air disc
Wheelbase: 186 inches
Refuse body: Heil Half/Pack Odyssey Residential Front Loader 20 cu.-yd.