10 early takeaways from the North American Commercial Vehicle Show
ATLANTA, Ga. – The North American Commercial Vehicle Show wraps up its second visit to the Georgia World Congress Center on Thursday – and some common themes emerged in product launches and displays.
Here are 10 takeaways:
Electric test fleets are growing
Battery-electric vehicles are clearly evolving beyond the realm of concept vehicles alone.
Daimler Trucks North America is highlighting the eM2 and eCascadia designs that are already in test fleets, and stressing that Daimler as a whole has 200 battery-electric trucks across the globe. Peterbilt was highlighting test models including Model 579EV day cabs, a trio of Model 520EV refuse trucks, and a Model 220EV beverage vehicle. Volvo is preparing to send its first five VNR electrics to California, and plans to bring those trucks to market in 2020.
Dana joined forces with Lonestar Specialty Vehicles to unveil a fully electrified terminal tractor, drawing on the new Spicer Electrified e-Powertrain system. The Dana powertrain can be added to a non-powered chassis or retrofit existing diesel-powered models with a motor, inverter, power electronic cradle and battery systems. Lonestar SV will complete the vehicle integrations inhouse.
One of the first looks at Navistar's electrification future came in the form of the eMV, a medium-duty prototype that promises a maximum range of 400 km with the help of a 321 kWh battery.
Initial production in all of these examples will be limited to test fleets, but OEMs are indicating that they have plans for larger build rates.
Some of those fleets will be powered by fuel cells

Not all of the electrification will rely on battery-electric designs. Hydrogen-electric systems are also emerging from the likes of Nikola Motors, Fuso, a partnership between Kenworth and Toyota, and a company that many North Americans tend to think of in terms of cars and trailers.
Hyundai, yes that Hyundai, arrived at the North American Commercial Vehicle Show with a concept vehicle known as the HDC-6 Neptune. The model is anchored in act deco styling, and a curved front end and massive grille would seem at home in a RoboCop movie. The company says it could feature a range of about 950 to 1,250 km.
Cummins – which has already acquired Hydrogenics to accelerate hydrogen fuel cells, and invested in Loop Energy and its fuel cell electric range extender — has signed a memorandum of understanding to collaborate on the related fuel cell technology across North America.
This is hardly Hyundai's first foray into hydrogen-electric fuel cells. It has been mass producing fuel cells for cars since 2013, and with H2 Energy it will commercialize 1,600 fuel cell electric trucks in Switzerland from 2019 to 2023.
If nothing else, the Neptune demonstrates the company's interest in exploring the U.S. market.
A new European truck is coming to Canada
Traton, Volkswagen's global truck and bus business, has an ownership stake in Navistar. And that business relationship will now bring Scania mining vehicles to Canada.
The brand may be largely unknown in North America, but more than 10,000 heavy-duty Scania trucks are in mining operations around the world.
Navistar will offer the sales and service network once the related regulatory approvals are in place. The plan is to begin trials with selected operators late in 2020.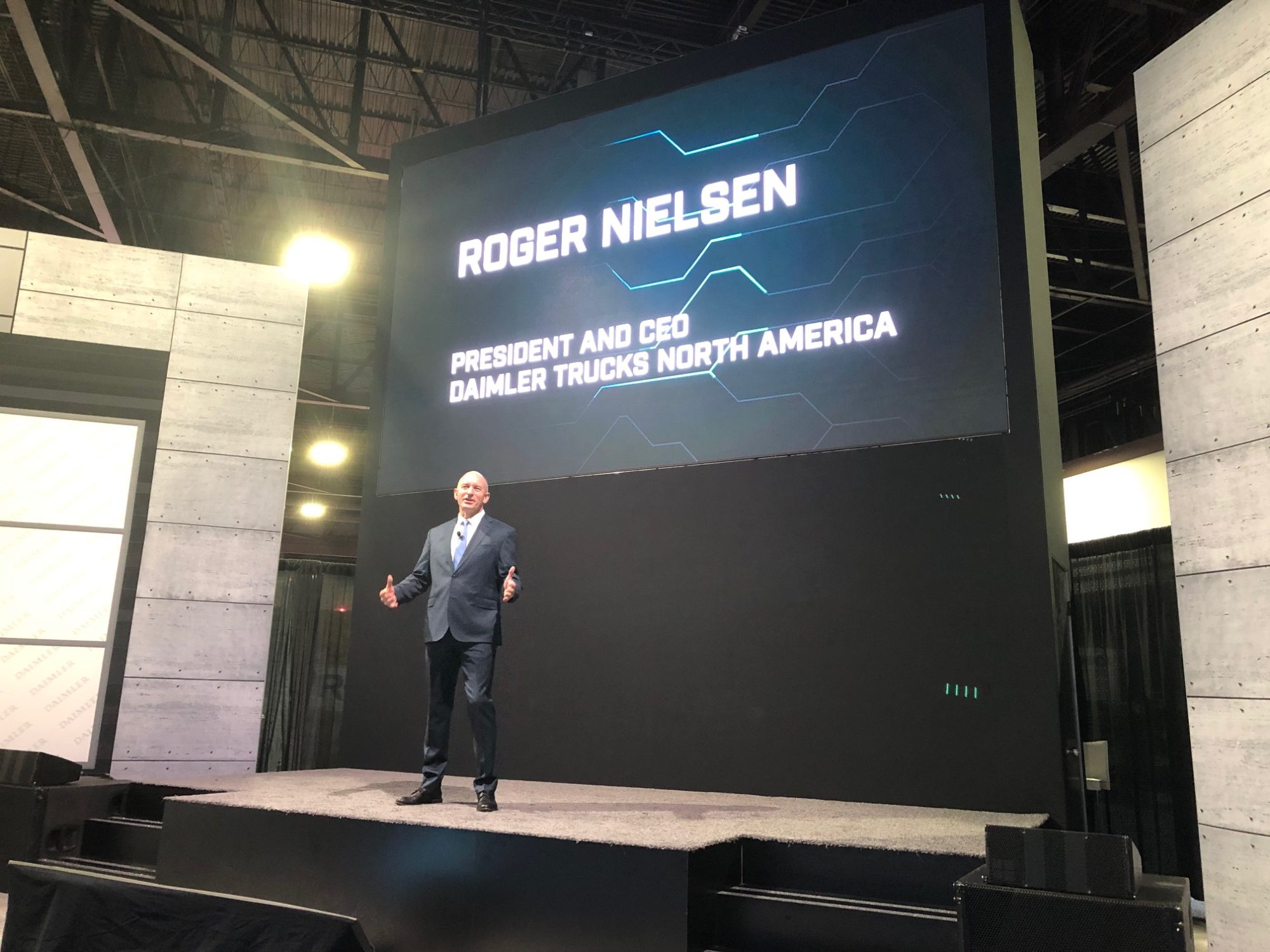 Freightliner is re-imagining the truck lease
Daimler Trucks North America's new Dynamic Lease Program will offer a "pay-as-you-drive" model that matches lease payments to billable miles. It's only going to be available in the U.S. at first, but will draw on telematics data compiled through the Detroit Connect platform in Cascadia trucks spec'd with Detroit engines.
Base-level payments will reflect the truck's depreciation, while the remainder will be based on mileage.
"It is the future of truck financing," said Roger Nielsen, president and CEO of Daimler Trucks North America. "It's tangible proof that we're looking at the complete customer journey."
The financing model has been tested by CR England, but Daimler Trucks Financial leader Tobias Waldeck also sees it as an option for smaller businesses that struggle with shifting cash flows.
"It absolutely will be an owner-operator product, because I think that's where the most help is needed – especially as we go into a different phase of the economic cycle," he said.
Alternative fuels might also have a role in trailers

Some show visitors may have strolled straight to Hyundai's futuristic Neptune, but parked at its side was the HT Nitro Thermo Tech Trailer being developed with support from Air Liquide. Drawing on nitrogen, it promises a carbon footprint that's 90% smaller than the one associated with conventionally fueled temperature-controlled trailers.
Regional trucks can realize fuel savings using the technologies of today

Ten fleets participated in the North American Council for Freight Efficiency's Run on Less challenge for regional operations, and they achieved an average 8.3 mpg (28.3 L/100 km). That's using commercially available technologies, but still betters the North American average of 6 mpg (39.2 L/100 km), the council says.Remove the one CNG-powered truck from the equation, and the diesel power units averaged 8.7 mpg (27 L/100 km).

Participating fleets included: C&S Wholesale Grocers; Hirschbach; Hogan Transportation; JB Hunt; Meijer; PepsiCo; Ploger Transportation; Schneider; Southeastern Freight Lines; and UPS.

You can sense the growing interest in sensors

Management expert Peter Drucker was known to say that "you can't manage what you can't measure."
The trucking industry is taking that message to heart by measuring more factors than ever before thanks to the power of telematics. The systems are looking well beyond engine parameters, too.
Donaldson announced this week that it's joining forces with Geotab to deliver readings from a wireless monitoring system for air filters, with plans to bring its Filter Minder to market in 2020.
Pushing out to wheel ends, the Meritor EX+ LS air disc brakes, purpose-built for linehaul and trailer applications, will include the option of embedded sensors that can power an electronic inspection tool. Maxion's MaxSmart technology will couple with ZF Openmatics to measure vehicle load, tire pressure, temperature and humidity, wheel position, speed and vibration.
Back in the trailer, Truck-Lite is adding a volumetric cargo sensor to its Road Ready trailer telematics platform. It will use five sensors to divide trailers into zones and report how much cargo is loaded into each zone.
Hendrickson's Watchman wheel-end sensor for trailers will build on a vehicle area network developed by Sensata Technologies. Initial versions will monitor tire pressure, wheel end temperature, and wheel end vibrations. The company is working with the Society of Automotive Engineers to develop communications standards for trailer wheel-end information, too.
Aperia Technologies, meanwhile, is preparing for the full rollout of its Halo Connect tire system. While the Halo Tire Inflators use the power of a rotating wheel to create air pressure, Halo Connect actively measures and adjusts tire pressures in real time. Reported pressures are even combined with other tire-related maintenance data and artificial intelligence to categorize tire-related issues by severity.
Allison and Freightliner joining forces in a transmission

Allison Transmission's new 3414 Regional Haul Series (RHS) transmission, an uprated version of the 3000 Series, will be released in a partnership with Freightliner. It will come with ratings up to 410 hp and 1,450 lb-ft of torque, serving fleets that use trucks in mixed-duty cycles, such a city route on one shift and regional routes during the remainder of the day. Food and beverage fleets offer one example.
It comes to market in the second half of 2020 and will become an option on the Detroit DD13 engine in the M2 112 and Cascadia. (The Allison 3000 Highway Series becomes the standard transmission in the Freightliner M2 112 as well.)
Manufacturers continue to be weight watchers
A proven strategy to improve fuel economy and reduce costs involves shedding unwanted pounds from components. Several companies are demonstrating the ongoing focus on that.
Maxion's 64-lb. 22.5 x 8.25 commercial vehicle steel wheel, available next year, offers a load rating of 7,400 lb. Some of the updates were made possible with a round hand hole rather than the D-shaped openings found on other models.
And Meritor's new EX+ LS air disc brakes that are purpose-built for linehaul and trailer applications will weigh in at 71 lb., lighter than the EX+ L designs that weigh 74.5 lb.
Class 8 truck sales are about to drop, but that's 'normal'

North American truck makers have enjoyed the benefits of a market thirsty for Class 8 trucks. And most OEMs are now projecting between 310,000 and 325,000 sales in Canada and the U.S. this year.
The market will be undeniably softer in 2020, however, with projections somewhere in the range of 230,000 to 260,000 units. But the manufacturers are not showing any open signs of panic.
"We see next year as a solid replacement volume year," said Peterbilt general manager Jason Skoog. Even these lower sales volumes would still represent the fourth- or fifth-best sales year in the past decade.
"Next year, the next several years, will just be a good healthy market and will be back for replacement values," said general manager Kevin Baney.
Have your say
We won't publish or share your data