Andy Keith steers Seafood Express fleet to the future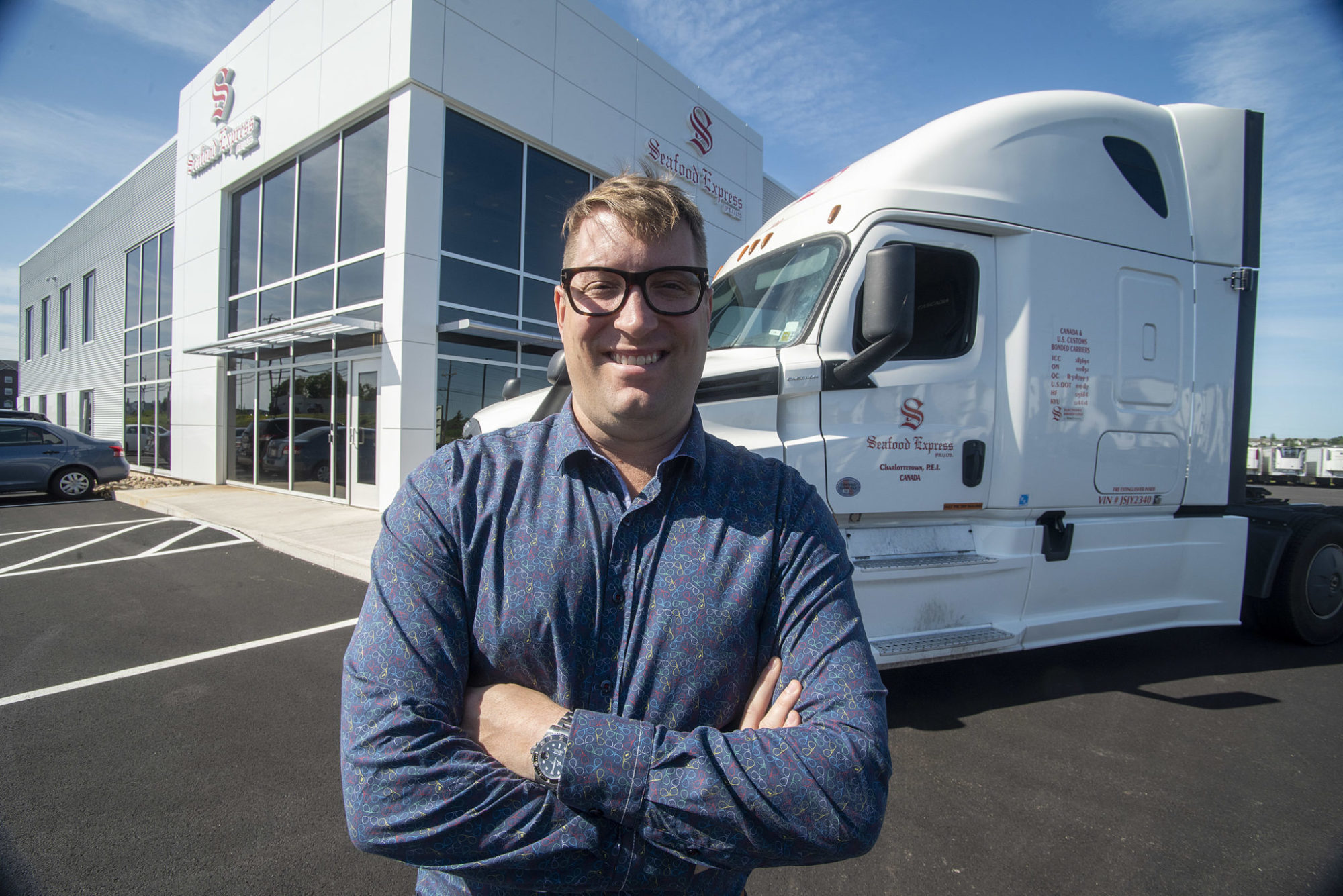 CHARLOTTETOWN, P.E.I. — All the stars seemed to be aligned for Andy Keith to join the trucking industry. His dad, Bill, acquired Seafood Express and the half-dozen trucks that went with it the year Andy was born.
"I grew up coming in and around the company," Keith says, recalling the maintenance tasks he performed during summer jobs as he grew up.
But when he graduated from high school, young Andy decided to head for the University of Prince Edward Island in Charlottetown to earn a bachelor's degree in business administration rather than preparing to take over the family business.
"I kind of did my own thing for a few years," he said of the time that followed in Halifax. "I wanted to branch out and get some experience from outside the [trucking] industry."
Keith took care of business development at the law firm McInnes Cooper before launching his own website development company in Halifax, where he grew a solid customer base.
Back on the island, however, his father was beginning to think about the future of Seafood Express — and that's when Keith was gradually drawn back into the family business.
It just involved some remote customer service and basic sales at first. But within a couple of years, he and his wife Stephanie decided to move back to P.E.I. so he could take the reins of the truckload operation focusing on fresh and frozen food.
"I was committed 100% at that point," Keith says.
The business certainly diversified in the years that followed, and the sales skills he developed during his time away from home helped to expedite the process. Today, fish and seafood account for a mere 15-20% of what the company hauls across North America with a fleet of 85 tractors and 140 trailers.
But the established brand of Seafood Express (P.E.I.) remained. "It's important to remember where we came from. If it weren't for the seafood industry, the company may not exist," Keith says.
Even the experience he established in technology proved useful in trucking, especially in a segment where any glitch in the cold chain can have catastrophic consequences.
"If you're hauling bananas and you're off by three or four degrees, the crop is pretty much ruined," he says. It's why the fleet has embraced remotely monitored and controlled reefers, to ensure integrity in the cold chain.
That isn't the only technical innovation the fleet has embraced. Seafood Express has also incorporated two-way dash cams to help educate drivers and establish safety nets that would be valuable in case of an incident.
The oldest truck in the fleet is a 2017 model, and the operation has embraced technologies from auxiliary power units to automated transmissions, adaptive cruise control, and lane departure systems. Electronic logging devices have been used for five years, too.
"It's definitely put every carrier on a level playing field," he says, suggesting that many of those who broke hours of service rules closed their doors when the U.S. began to mandate ELDs.
And in the effort to keep it all on the move, Seafood Express also employs drivers from 15 different countries through the Temporary Foreign Worker Program, in addition to those born in the Maritimes.
They all call a new terminal in Charlottetown home. The recent opening of that location, Keith says, represents one of the proudest moments in his career. There are four full maintenance bays, a fitness center for drivers and other employees, and driver dorm rooms. Another four acres of land remain at the ready for future growth.
"It's been a good key indicator of the success we've had in the past and the fact that we're growing for the future," he says.

Have your say

This is a moderated forum. Comments will no longer be published unless they are accompanied by a first and last name and a verifiable email address. (Today's Trucking will not publish or share the email address.) Profane language and content deemed to be libelous, racist, or threatening in nature will not be published under any circumstances.