EconicSD enters the waste race
LAS VEGAS, Nev. – Freightliner has unveiled the EconicSD waste collection truck to North America in a bid to secure a share of the 2,400 to 2,600 trucks sold in its category per year.
Available in 6×4, high-cab and low-cab, and rear- and side-loader configurations, the low-entry COE features panoramic windows and an optional pneumatic bi-fold door on the passenger's side. The vehicle will even kneel like a transit bus to ease access in and out of the cab.
There's only one 19-inch step to enter, and one more step to reach the driving platform. In contrast, the steps into conventional trucks are anywhere from 39 to 52 inches high, said Richard Saward, general manager of vocational and government sales, when the truck was revealed at Waste Expo. In the high-cab version of the EconicSD, drivers and passengers can walk straight through from one door to the other. There's no doghouse in the way.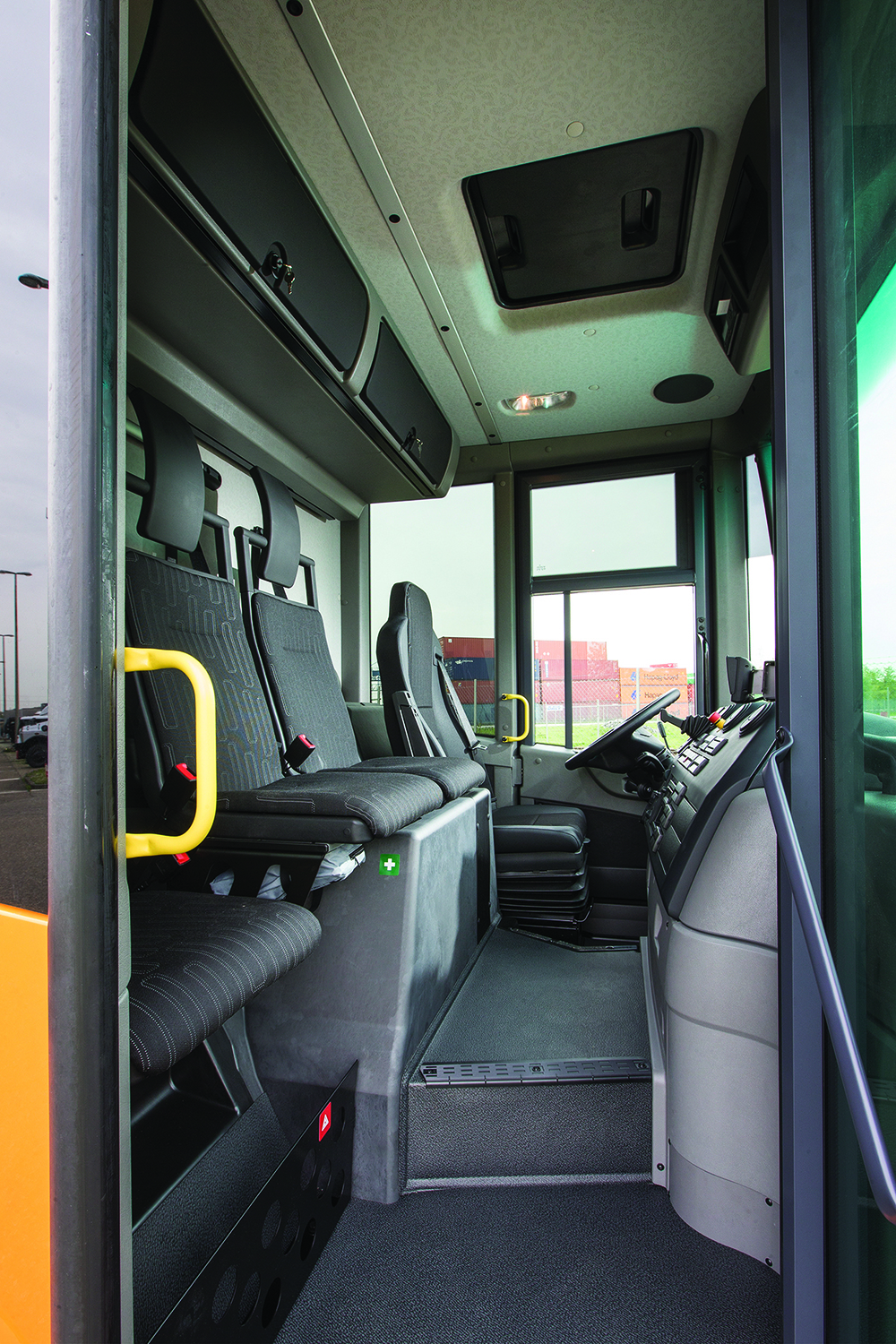 The truck is known elsewhere in the world as the Mercedes-Benz Econic, first unveiled in 1998 and updated in 2013. But while the EconicSD will be manufactured in Germany, the related kits will be assembled by Freightliner Custom Chassis Corporation in Gaffney, S.C. Engineers had to complete 128 related projects to ensure it could be sold here, changing things such as seat belt mounts.
"This truck is an absolute game changer for our industry and the waste collection industry," Saward says, referring to the importance of having a low-COE in the portfolio. Many waste collection fleets are looking to consolidate suppliers, working with one or two sources of equipment, he adds. "You have to be a full-on player to be able to attract the big boys."
Several safety systems build on the view provided by windshields and mirrors alone. Like its on-highway brethren, the Freightliner Cascadia, the EconicSD comes with Detroit Assurance and its active brake assist, adaptive cruise control, and lane departure warnings. The brake assist is always on, watching for metallic objects, while the adaptive cruise control needs to be engaged by drivers. An optional radar-based side guard assist will flash lights on the A-pillar and sound warnings if pedestrians or cyclists are tucked in too close to the passenger side of the truck, and 360-degree views are displayed through a flat screen in the dash.
In addition to an air-suspended driver's seat, additional single seats can accommodate up to three passengers in the high-cab model. The dash itself includes a digitized instrument cluster and an axle load indicator system.
Saward says that Heil Environmental and McNeilus Truck and Manufacturing were both engaged to ensure the platform could support the equipment they offer – covering front, rear and side loaders — although bodybuilder support is available to other suppliers as well.
"Most of the hard work in this business takes place with the body, a well-designed body solution," Saward says.
"It's absolutely a safety-laden truck," adds Matt McLeish, vice-president of refuse sales at McNeilus. "It says 'get in', and that's what we're all about."
It's all powered by a Detroit DD8 engine delivering 350 hp and 1,050 lb-ft of torque, and controlled with a six-speed Allison 3000 automatic transmission with PTO capacity. The engine's variable exhaust cam phasing optimizes exhaust temperatures under low loads, to support aftertreatment systems. And the engine brake offers 402 hp of stopping power. The condition of equipment is monitored through Freightliner's Virtual Technician telematics system, too.
Alternatives to diesel power, such as natural gas or electrification, would need to be explored in the future, Saward said, suggesting no power system is ever off the table.
Orders will begin in June, with production to begin in October. The trucks will first be available in April 2019.

Have your say

This is a moderated forum. Comments will no longer be published unless they are accompanied by a first and last name and a verifiable email address. (Today's Trucking will not publish or share the email address.) Profane language and content deemed to be libelous, racist, or threatening in nature will not be published under any circumstances.