Geotab CEO talks telematics, tech, and a promising future
OAKVILLE, Ont. — The signs of the progress are written on the Geotab walls. To be precise, they're tracked and measured on massive monitors that hang above work areas in the head office. The screens offer real-time insights into the number of connected vehicles, subscribers, and an array of internal metrics.
The numbers are all trending higher, too.
What began as a small family business in 2000 — just a few years after GPS units were first able to locate equipment within a 10-meter range – is now a vehicle telematics powerhouse. The Oakville, Ontario company now counts 1.93 million subscribers, processing more than 40 billion data points per day. It's on track to have 2 million subscribers around the world by this January.
The Geotab Marketplace, an open platform for software and hardware providers that leverage vehicle data, supports no fewer than 150 connected options. And included among them are tools such as electronic logging devices (ELDs) that every federally regulated fleet will have to use no later than June 2021.
Certifying ELDs
Geotab ELDs are already used on both sides of the Canada-U.S. border, of course. But like every other supplier it will need to have devices certified by a third party, under a framework that has yet to be finalized by federal regulators.
CEO Neil Cawse admits he's traditionally in favor of self-certification, but recognizes that approach has been abused when it comes to some of the ELDs registered for sale in the U.S.
"We believe that many of the American products, some of the ones that are very, very large, are not compliant," he says. In other words, some competing devices include electronic "back doors" that allow users to alter their log entries. "It's just completely against what is specified in the legislation, and yet companies are not being held to task on doing it."
While more than 500 ELD systems are currently registered with the U.S. Federal Motor Carrier Safety Administration (FMCSA), he expects only a few of those to ultimately be cleared for use in Canada.
"The Mickey Mouse guys, fine, they'll do whatever they want to do," Cawse says, "but the guys that are serious enough will have to have Canadian compliance."
He remains equally at ease about the coming change in the U.S. regulations that will officially phase out automatic on-board recording devices (AOBRDs) on Dec. 17. "People have had so much warning." Granted, he expects some diehard AOBRD users to struggle when they first flip the switch and find out that a chosen ELD doesn't work as planned.
And while Cawse believes that ELDs enhance highway safety through an unblinking focus on hours of service, he also recognizes challenges with the hours of service rules themselves.
"I feel for the truckers, I really do," he says, suggesting there's a need for more flexibility in the regulations. "You could easily have had a bad night the night before, not be feeling well, or on medication or whatever, and be a way worse driver than some guy who's driven half an hour longer than he should."
Small owner-operators will face the heaviest burden, he adds. "Sometimes it's pushed down onto these little owner-operators who end up taking risks because they're using non-compliant systems."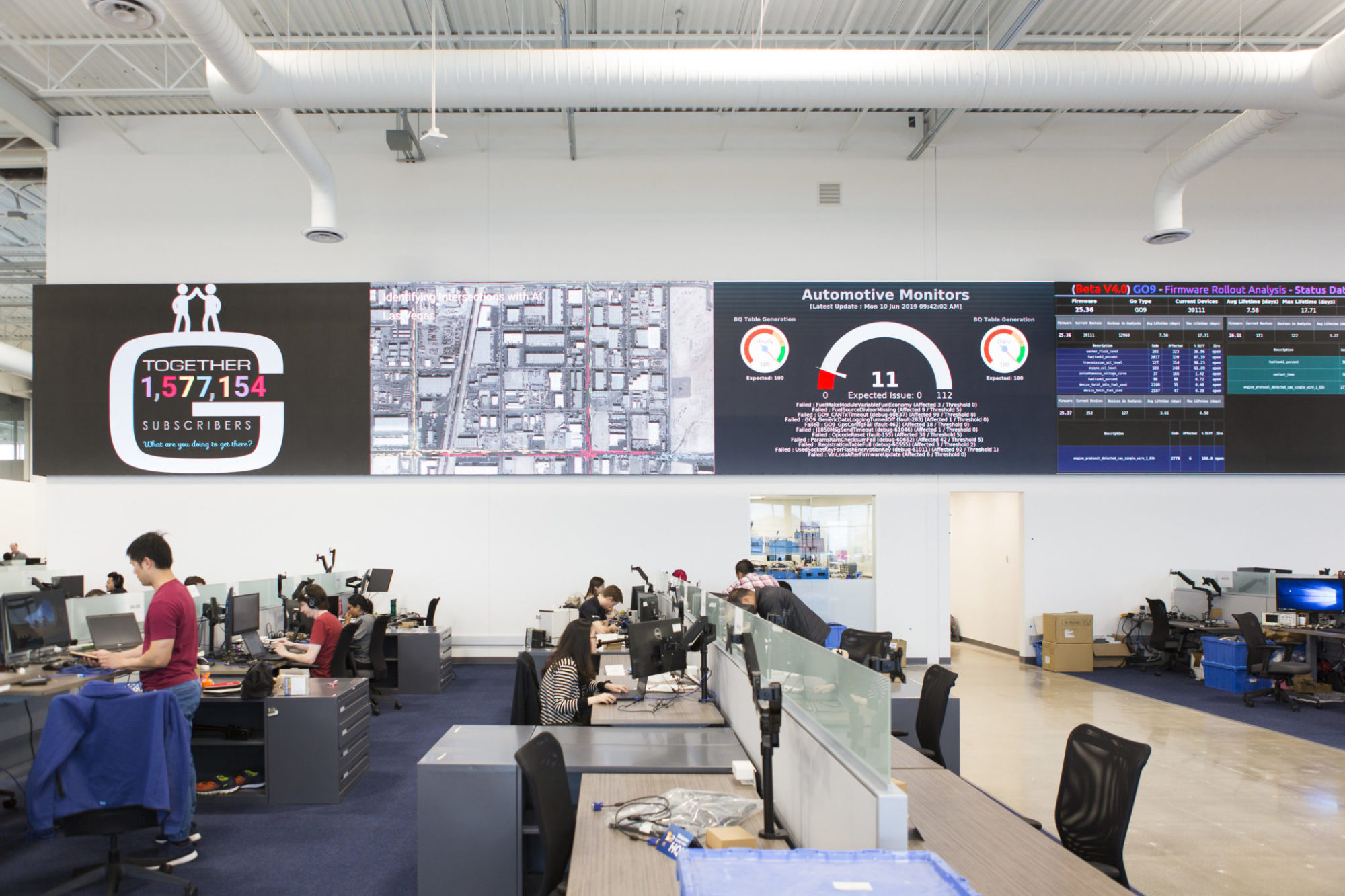 The promise of telematics
Geotab's telematics offerings are not limited to ELDs, and the company is not even limiting itself to ideas developed and supported by more than 1,000 internal employees. It recently invested in a business accelerator known as Torque Labs, which offers access to engineering, marketing and sales support, as well as the Geotab Marketplace sales channel.
"In the past what we were doing is just turning all these folks away with great ideas, when we knew that these ideas were good," Cawse says. "I really do think this is going to yield some very positive results."
There are still many challenges that telematics systems could help to solve, after all.
Smartphones have undeniably contributed to the problem of distracted driving, but technology could help to solve that issue, he says as an example. Today's phone makers have been locking down the privacy on devices, but it would be possible to combine a phone's camera and machine learning to tell when someone holds the phone to their face or begins to text.
New Bluetooth 5.2 standards, meanwhile, make it possible to locate items to within a centimeter inside a building, depending on where the sensors are mounted. It's a detail that could be vital in a manufacturing environment that has to track tools and trays of parts as they move about a facility.
Some of the most important gains of all could be in the name of highway safety.
"We know that certain things predetermine you for accident risks, like driving late at night, or harsh braking, or dangerous lane changes," Cawse says. "We need to be able to record that data, analyze when people do have accidents, look at what led up to the accident, and then help be more proactive about fixing that."
The information doesn't even need to be limited to fleet managers. Drivers could be warned if they are applying brakes a little later than they usually do, or if they're approaching an intersection that's known to be particularly dangerous. Safe actions, meanwhile, could be rewarded and encouraged through gamification.
"The more open you can be, the more you standardize on open standards and protocols and APIs, the better it is universally in the long run."
– Neil Cawse, Geotab CEO
Tracking and measuring could play a role in the fight for emissions, too, measuring levels of particulate matter at a "hyper-local" level, or using a Geotab device as a transponder to monitor trips in the areas that restrict commercial traffic to zero-emission vehicles.
The limitations of legacy technology
The possibilities seem endless. But one of the ongoing trucking-related barriers is that many fleets continue to work with legacy technology.
"The trucking world is full of AS/400 stuff that has been around a very, very long time," he says, referring to fleet offices that continue to conduct business over green computer monitors. Emerging options and refined user interfaces are passing them by.
As new options emerge, there's also the ongoing challenge of ensuring they can better integrate with the back end of traditional transportation management systems, informing drivers where they need to go, what they carry, and the time to get to their destinations.
"If you ran them on their own, the world would be very painful," Cawse says. "I have my invoicing system over here. I have the system that runs HR, so I have all my trucking guys' information in here. [There's] my ELD system over here, my customer systems over here. I have all these maintenance systems over here.
"If they're all separate systems and they don't talk to one another, everything has to be recaptured 25 times. The data is inconsistent, I can't pull reports to get a consolidated view of what's happening in the organization."
The good news is that modern systems use open application programming interfaces (APIs), which make it easier for systems to communicate with one another, he explains. "Somebody can write some stuff. It pulls from this system and pushes into that system."
In the midst of it all, Geotab is also investing in other suppliers as it expands its platform.
This April it acquired BSM Technologies, which specialized in telematics and asset management for government and private fleets. Picture systems that can manage individual plows, and measure exactly how much salt it spread on the road. Other specialized offerings include systems for trucks that can shift from roads to railway tracks, and shift between the different hours of service rules that apply to concrete and iron highways.
With the acquisition of Waterloo, Ontario-based FleetCarma, Geotab picked up software needed to support electric vehicles and manage batteries. Last month it acquired a Spanish engineering firm known as Intendia, which has expertise in tachographs and reefers.
But the open approach to the Geotab Marketplace, available to apply technologies developed inside and outside the business, remains central to the company's plans.
"Marketplace is incredibly important to the future of the company," Cawse says. He describes it as one of the "cogs" in a business machine that supports everything from invoicing to maintenance activities and the all-important tracking of vehicles.
"Some companies believe like proprietary and closed. We think that the more open you can be — the more you standardize on open standards and protocols and APIs — the better it is universally in the long run."
Have your say
We won't publish or share your data