The case for and against electric trucks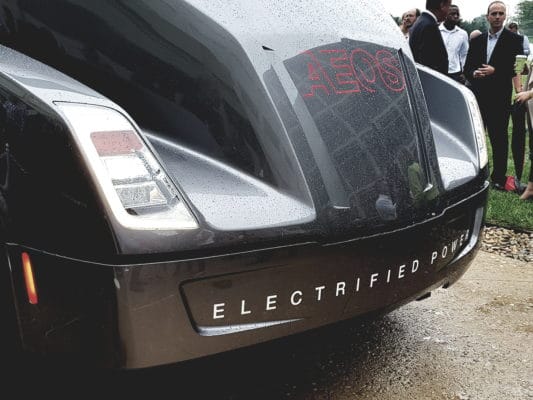 INDIANAPOLIS, Ind. – In studying the viability of electric trucks, Rick Mihelic has learned one thing for certain.
"Electric trucks are polarizing," the director of future technology studies for the North American Council of Freight Efficiency (NACFE) said today during the FTR Transportation Conference. "On one end of the spectrum, you have zealots telling you it's the end of diesel as we know it today.  On the other end, you have equally rabid opponents telling you electric trucks are not viable."
The answer, Mihelic said, lays somewhere in between those two extreme views. In a Confidence Report on electric trucks released earlier this year, NACFE laid out 10 significant arguments for and against the technology. They fit into four buckets: weight, technology, cost, and charging.
Weight
While there's a widely held belief that electric trucks will be heavy, Mihelic said this isn't necessarily so. About 7,847 lbs of components are taken out of a diesel truck, including the engine, transmission, fuel tank, driveshaft parts, and diesel exhaust fluid tank.
"On the other side of that, what are you carrying in terms of freight loads?" Mihelic asked, noting only 30% of trucks operate at full 80,000-lb or above loads. "That means 70% of the loads are below that weight."
Combining those two points means a truck can take on a lot of battery weight before total vehicle weight is a concern.
"So, it's very feasible to build a weight-neutral electric truck that operates for the majority of the market," Mihelic pointed out.
Technology
Electric truck skeptics argue that the technology just isn't ready for prime time. However, NACFE has identified more than 30 electric commercial vehicle platforms in various stages of development.
"That's a lot of companies doing a lot of work," Mihelic said, noting this applies also to companies developing charging infrastructure.
"Our conclusion is yes, the technology is ready," he said, but he added a caveat. "Electric trucks are right at the start of the innovation S-curve. They need a lot more vehicles on the road, a lot more miles and field history."
Gasoline and diesel engines have 100-plus years of real-world use behind them and because of that, future efficiency gains will be small, Mihelic noted.
"Over the course of the near future you're going to see significant improvements on the electric side, and not so much on the diesel side."
Cost
The argument against electric trucks is that their acquisition cost will be much higher than that of a traditional diesel truck. Not so fast, said Mihelic.
"There are a couple manufacturers out there developing trucks from a clean sheet approach and they are looking at coming up with a cost-neutral truck," he said, citing a partnership between UPS and Workhorse aimed at producing a cost-neutral medium-duty electric delivery truck.
When it comes to cost of operation, electric trucks could eventually come out ahead, once the early kinks are worked out.
"NACFE's conclusion is reliability and maintenance is probably about equal to, or a little bit worse, than diesel trucks right now," Mihelic said. "But because these electric vehicles are significantly less wear-intensive, they have the hope of being significantly less costly to maintain and operate."
This is proving to be true in the more mature bus market, where electric buses are less expensive to maintain and operate than the diesels they replaced.
Charging
Diesel advocates argue that the charging infrastructure is not yet developed and that there are too many unknowns. But, said Mihelic, "Roadblocks to some are business opportunities for others."
For example, he said fleets may be able to partner with electric truck manufacturers to have charging infrastructure subsidized, in an attempt to get more electric trucks deployed. Also, installing charging infrastructure on-site gives fleets more flexibility in how it's used.
Mihelic pointed out most fleets already use a combination of technologies, so integrating some electric trucks is not daunting.
To conclude, Mihelic said electric trucks will succeed or fail under the intense spotlight of the marketplace. While he acknowledged they are not for every market, they are viable in some, "and that list is going to grow in time."
He also said innovation in the space will be rapid, not only for electric trucks themselves, but also for the charging infrastructure and the business models surrounding the system.

Have your say

This is a moderated forum. Comments will no longer be published unless they are accompanied by a first and last name and a verifiable email address. (Today's Trucking will not publish or share the email address.) Profane language and content deemed to be libelous, racist, or threatening in nature will not be published under any circumstances.