The rules of the game are changing in Mexico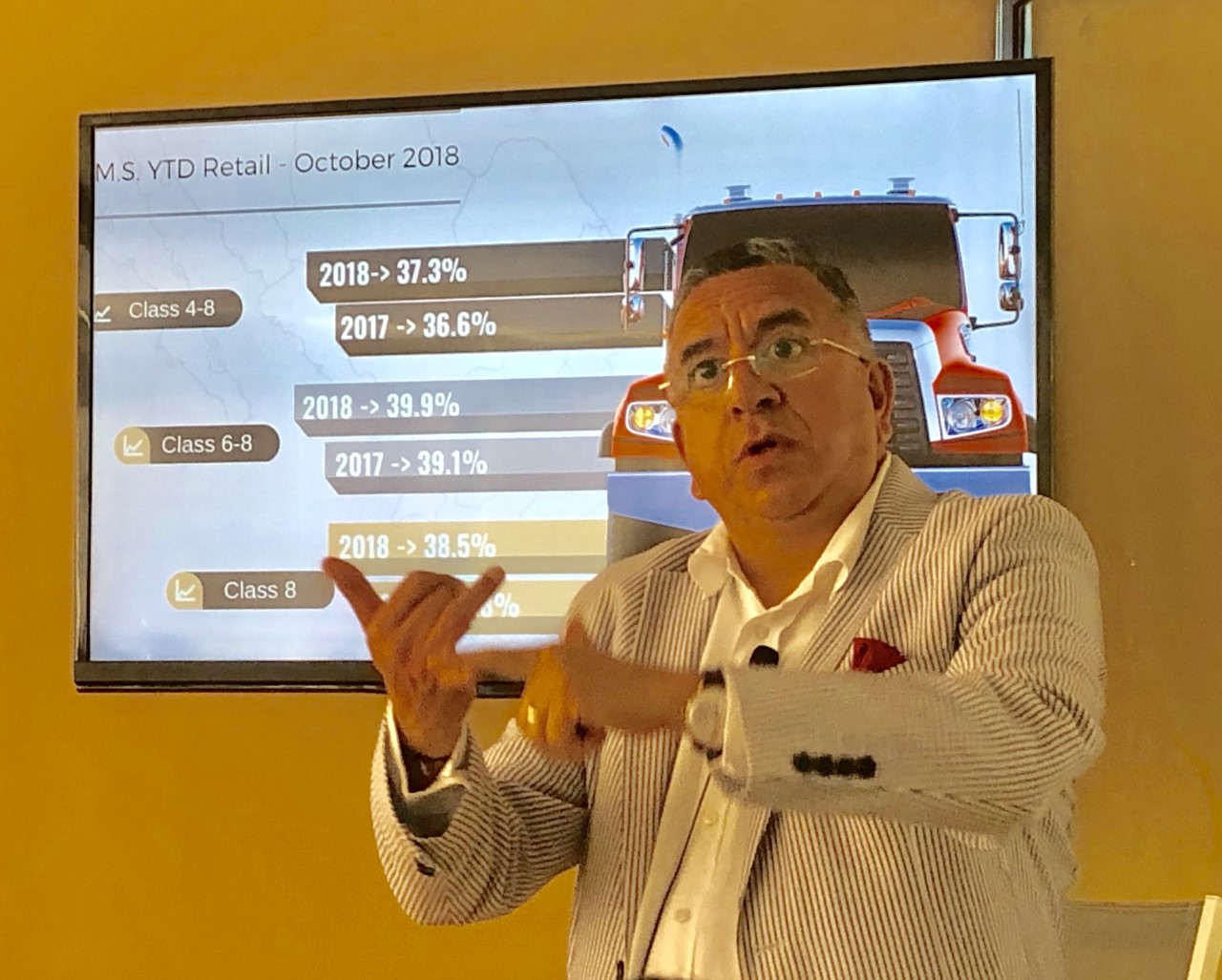 PUERTO VALLARTA, Mexico – There is no mistaking the importance of Mexico to Daimler Trucks North America.
The company has a massive manufacturing presence here, with a pair of assembly plants that produce more than half of the trucks and tractors made in the country. Our southernmost trading partner on the continent is home to 8,000 Daimler employees overall, as well as an engine and components remanufacturing plant, and a parts distribution center.
Now their work will be guided by a new set of rules, with the yet-to-be ratified U.S.-Mexico-Canada Agreement (USMCA) set to replace NAFTA.
"Without a question, this new free trade agreement has created certain struggles," said Daimler Vehiculos Comerciales Mexico president and CEO Flavio E. Rivera, when Today's Trucking asked how manufacturing plans have been affected by steel and aluminum tariffs and USMCA.
But those are only examples of changes that are coming.
Mexico inaugurates nationalist Andres Manuel Lopez Obrador as president on Dec. 1, although Rivera doesn't believe that will lead to a wholesale change in the way the country is run. If anything, he sees more opportunities. "I'm convinced this transitional stage is going to give us huge opportunities for our country – and we're ready to face them," he said.
The economy is relatively stable from a national perspective. The Gross Domestic Product (GDP) is expected to grow 1.5 to 2% this year. And Mexico's transportation industry, representing about 5.5% of that total, is expected to match growth seen in 2017.
It will just have to get used to changing rules of its own.
Emissions standards
The country is home to 530,000 Class 4-8 trucks overall, and an average piece of equipment is 17 years old. This means about two-thirds of the trucks were built with emissions systems that predate EPA 04 rules. But as of next July, Mexico will shift to a combination of Euro 5, EPA 2010, and GHG 17 emissions regulations.
"For a small period, the transportation [sector] will be able to use three different types of regulations," Rivera said. "It's difficult to understand. It's hard to believe."
Freightliner has been aggressively pursuing the market that's buying new trucks to add to the fleet. Last month it brought the latest generation of the Freightliner Cascadia to Mexico. And a year ago it introduced a pair of cabovers in the form of the Class 8 2528 and the Class 6 1217, joining the Class 4 715 model.
All of the Class 4 and 5 trucks sold in Mexico are now cabovers, and the configurations account for 45% of Class 6 and 7 sales. "One out of five vehicles that are sold in Mexico during this year are cabover engine," he said, referring to the importance of those models in the product portfolio. "It's a clear example of how a global company can be in a market such as the Mexican market."
Freightliner itself has been making gains in the process. Its market share in the country has grown 16% since 2006, and in Class 6-8 Daimler now accounts for 40% of sales. It holds 37.2% of the Class 4-8 market this year, up from 36.6% in 2017. Where it led sales in eight states in 2014, it now holds the lead in 26 states.
"We are leaders," he said. "A few years ago we were not."
Looking to expand sales further, Daimler wants to have 110 service locations established by 2020, compared to the 80 that exist today.
Industry challenges
In the midst of it all, Mexico's trucking companies face some familiar challenges.
The country faces a shortage of 20,000 truck drivers, according to the national CANACAR industry lobby group. And fuel prices, now close to $1 a liter, are 92% higher than they were six years ago, soaking up about 57% of the cost of operating a typical truck, Rivera said.
While 17% of the market focuses primarily on price, with an equal share looking for the latest technologies, the remaining customers are still looking for ways to improve performance, he said, referring to the trends Daimler has identified. "They want their investment to be fruitful — not only in terms of price."
Looking to the future, Daimler also continues to invest in connectivity, autonomy, shared services, and electrification – all of which are expected to have a role on Mexican roads.
In the meantime, the focus is on the new Freightliner Cascadia.
"This is the vehicle we are completely sure will revolutionize the industry," he said.
And in Mexico, it's a changing industry at that.
Quotes in this article were provided through a translator provided by Daimler Trucks North America.

Have your say

This is a moderated forum. Comments will no longer be published unless they are accompanied by a first and last name and a verifiable email address. (Today's Trucking will not publish or share the email address.) Profane language and content deemed to be libelous, racist, or threatening in nature will not be published under any circumstances.