Euro Zone: New and future truck tech at IAA show
HANNOVER, Germany — The scope and scale of the IAA Commercial Vehicles show in Hannover, Germany, is like no other. Daimler and Traton – the recently rebranded Volkswagen Truck and Bus — stake their claims to entire buildings rather than individual exhibit halls. Some of the aisles in the halls are as wide as streets. The individual buildings are divided by actual streets. And did we mention the Ferris wheel?
The overall aesthetic, punctuated by massive video monitors and the widespread use of whites and blues, seems at times to reflect a consumer electronics show rather than what many people would associate with a truck show.
It's a fitting setting for common themes that emerged during the biennial event.
The expansive displays show plenty of diesel-powered highway tractors, of course. But many announcements, drawing global press by the hundreds, focused on topics such as electrification, connectivity, and various level of automation.
Yes, this is clearly a European-focused show. The ever-present cabovers confirm that. The increasingly global nature of truck manufacturing, however, has already seen North American nameplates adopt many technologies that were originally unveiled on the other side of the Atlantic.
It's likely just a matter of time before some of these offerings roll out across the globe.
Connectivity
Vehicle-focused telematics systems and cellphone apps continue to emerge with promises to improve the way manufacturers, truck owners and drivers connect.
"I view the truck as an iPhone," observed Navistar CEO Troy Clarke, referring to the open architecture of his company's OnCommand Connection. "I don't want to make the apps." Such an approach also helps the manufacturer leverage the larger development teams outside of its own company walls, while 2/3 of the equipment currently monitored by OnCommand includes brands other than Navistar.
Even a boat manufacturer and railroad use it.
"We're developing and connecting our customers with different hardware and software solutions," said Klaus Maier, head of sales and marketing at Mercedes-Benz vans. He referred to the way Sprinter vans are fully networked, comparing it to the way cellphones evolved into smart phones. "It offers a completely new level of networking flexibility." Through a digital platform known as Mercedes Pro, customers can now control orders online, and reroute vehicles if necessary. The information about service intervals is available almost in real-time. Eight tailor-made packages meet requirements from fleet management to an analysis of driving styles.
Daimler's eVan Ready app measures routes and determines if it makes sense to change course, Kaehler says. And a sharing service known as Via Van, a joint venture with a U.S.-based startup known as Via, has already been rolled out in Amsterdam, London and Berlin.
Meanwhile, the new Volvo Connect Customer Portal was unveiled as a digital platform to address information needs from administration to compliance. "Everything tailored to drive their profitability. The development is progressing quickly, and the journey has just begun," said business project manager Carina Holm. "Think of Volvo Connect as the digital home for a more valuable transport operation."
Traton's digital brand known as Rio also announced plans to collaborate with Wabco. This will link Wabco's experience with trailer telematics and electronic systems to Rio's connectivity platform – leading to Wabco's TX-TrailerPulse Telematics solution that offers real-time views on trailer positions, trailer coupling state, brakes, lights, and tires.
Traton Group also announced a partnership with Solera holdings to collaborate on fleet management, driver services and "digital sales solutions" for those who work with commercial vehicles. MAN Truck and Bus had already been working with the developer on a driver-focused after-sales application.
Electrification
Stroll the show's halls and it's clear that electrified commercial vehicles, particularly those designed to serve urban delivery needs, are beginning to emerge as European production models rather than prototypes alone.
"Electrification is an important topic for the future that will be with us for many years to come," said Wilfried Porth, responsible for HR, labor relations, and Mercedes-Benz Vans. Everyone's searching for a balance between higher cargo volumes, urban congestion, and the clean air and silent operation that ensures a better quality of life.
With the exception of many transit buses on display, most of the electrification displayed on the show floor has been limited to test fleets. But the power source is proving itself as a viable option in specific applications.
"Over the next few years we will see a rapid increase of electrified commercial vehicles," agreed Jonas Odermalm, the vice-president involved in Volvo's product line. By next year his company will be producing electric versions of its medium-duty FL and FE models, capable of driving distances up to 300 km between charges. That is made possible in part by sharing underlying technologies already in use by about 4,000 Volvo buses.
"The switch to electric vans are already paying off today," said Benjamin Kaehler, head of eDrive@Vans for Mercedes-Benz. The choices, however, are always measured against the same standards applied to vehicles with conventional drivelines, he said.
"Electric trucks pave the way for more sustainable goods traffic in urban areas, and we see a very strong potential for these vehicles," said Volvo president Claes Nilsson. In regional and longhaul applications, however, he says that liquefied natural gas (LNG) is currently the best alternative to diesel.
Hydrogen-powered fuel cells are making their presence known as well. The Mercedes-Benz Sprinter F Cell camper concept that rolled onto a stage in Daimler's building stores 7.4 kg of hydrogen, offering a maximum range of 500 km between refueling. "The fuel cell technology is relatively lightweight," Kaehler adds.
For its part, Bosch is supporting the use of fuel cells by manufacturers such as Nikola, and it expects a million fuel-cell-powered vehicles to be driving in China by 2030. The supplier is exploring synthetic fuels made from renewable resources as well.
Still, there's no overlooking some practical limits.
Electrification isn't right for everyone, said Martin Daum, head of Daimler Truck and Bus. "The required range depends on the route a truck or bus travels." The opportunities to charge or recharge can vary greatly.
But the number of options continues to increase. Daimler's electric offerings include the Fuso eCanter, eActros, eM2, eCascadia, and Jouley school buses, all overseen by a new eMobility group. The Class 8 eActros itself is offering a 200-km range in trial runs, even with full loads and when traveling a hilly landscape.
Daimler also used the show to announce a stake in California-based Proterra to develop electric buses for local transport. That US $155 million in funding was co-led by Daimler and Tao Capital.
Don't forget about steps to improve the emissions on diesel-powered equipment, either. Bosch's exhaust aftertreatment business doubled in 2016, and the sales of common rail injection systems grew by a third in 2017. The growth has been particularly fast in China. "Environmental protection is both a challenge and also a boost for our truck diesel business," said Rolf Bulander, chairman of Bosch's mobility solutions business sector.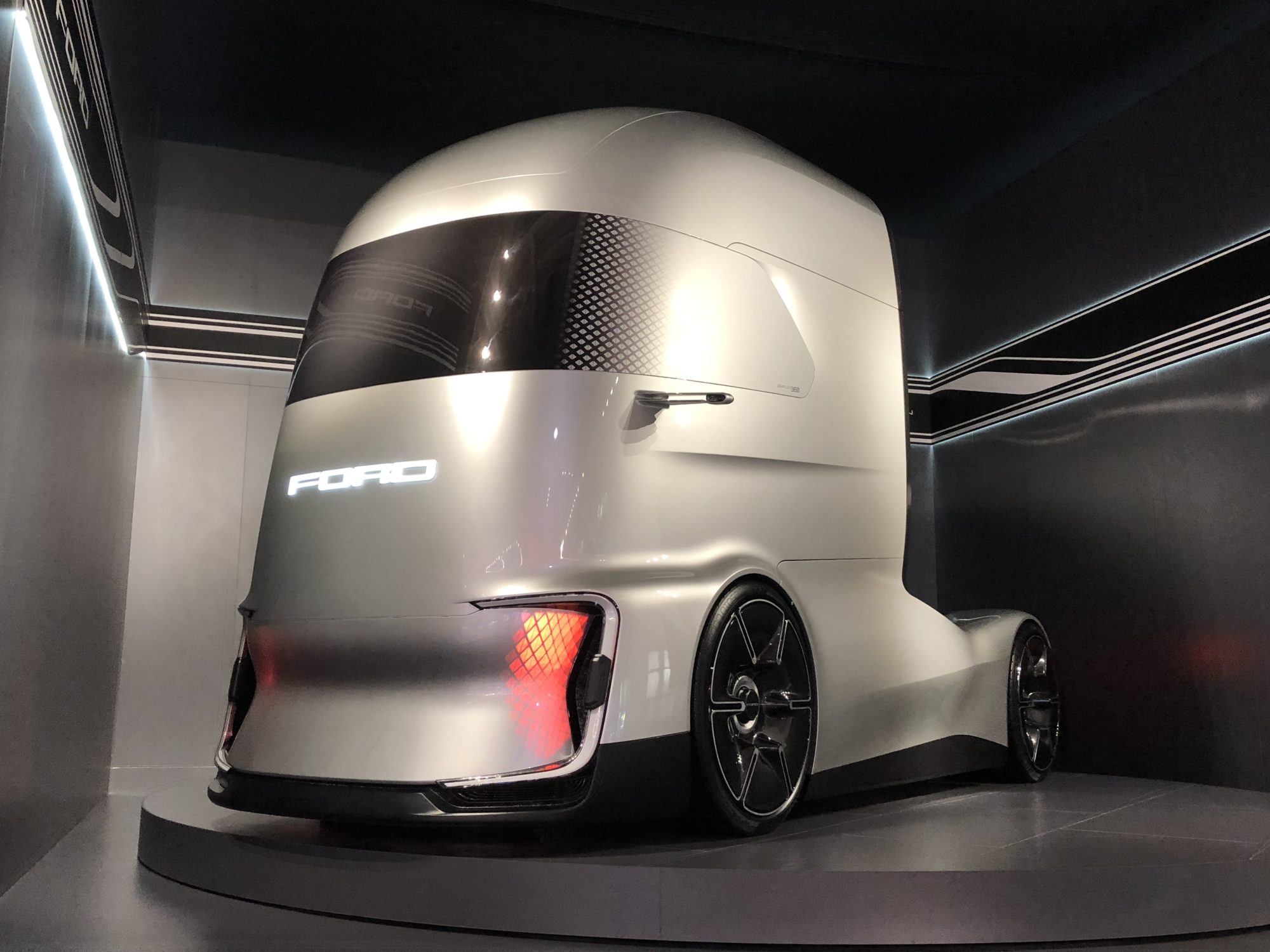 Autonomous trucks
Then there's the question of who – or what – will be responsible for controlling vehicle actions.
We're a long way from autonomous trucks, at least those that would roll along without drivers. But semi-autonomous systems are emerging as an evolution in cruise control. Options unveiled at the show will automatically keep a truck within its lane, use radar-based systems to watch for cyclists creeping up the right side of a turning truck, or apply warnings and then full brakes if a pedestrian walks in front.
The need for electrified and autonomous options is especially pressing in urban environments, added Bulander, noting how 2/3 of the global population will live in cities by 2050. The share is closer to 50% today.
He discussed a vision of freight patterns that have heavy trucks delivering loads to the outskirts of a city, leaving final mile deliveries to lighter vehicles – including scooters and cargo bikes.
One in every 10 trucks sticks to the same on-highway routes, Bulander said, suggesting the promise of automation for hub-to-hub deliveries, as the trucks shuttle between depots.
"The road freight of the future should be as free of accidents, emissions and stress as possible," he said, stressing the need for electrified, automated and connected vehicles.
Concept vehicles
The IAA is also a chance to display concept vehicles that might offer a hint of the trucks to come. Daimler and Volvo, for example, both displayed van-sized equipment that looked like rolling platforms.
The Mercedes-Benz Vision Urbanetic looks much like a massive clamshell-style suitcase one moment, and a driverless people mover the next. The related bodies would be switched as needed. "Different companies can share such a van," Porth suggested. "Every vehicle can be used around the clock."
"What if we were to combine electromobility, connectivity and automation," mused Mikael Karlsson, Volvo's vice-president of autonomous solutions, when discussing his company's Vera concept vehicle. "It will make transport safer, cleaner and more efficient." Imagine how efficiently 10 of these vehicles could be if they were part of a larger system, he added. "The speed and pace could be adjusted to eliminate unnecessary waiting time."
Ford, fresh of its Truck of the Year win for the F-Max Class 8 European cabover, was also displaying its electric F-Vision concept truck. It offers a look at the potential of Level 4 autonomous driving.
"It is easy to be blown away by exciting innovations," Volvo's Nilsson said. But the focus is what they can achieve. "They bring us closer to our vision of transports with zero emissions and zero accidents."
We'll have to wait awhile for some of these offerings to come to North America. But maybe that "while" isn't as long as we might think.
The 67th annual IAA runs until Sept. 27.

Have your say

This is a moderated forum. Comments will no longer be published unless they are accompanied by a first and last name and a verifiable email address. (Today's Trucking will not publish or share the email address.) Profane language and content deemed to be libelous, racist, or threatening in nature will not be published under any circumstances.